Louis Vuitton to open first boutique in Lebanon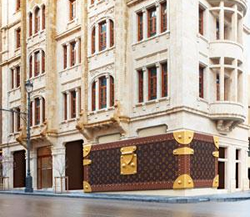 Common values have led the House of Louis Vuitton and the country of Lebanon to forge stronger ties. Even though the turmoil of history hindered the famous House from settling in the country earlier, the brand and its Lebanese customers have always been linked by a genuine affection.
In a few months' time, the celebrated purveyor of fine leather goods will open its first store in Beirut, a vibrant city whose economic, artistic and cultural activities have established the city as one of the most important in the world. Louis Vuitton will thus reaffirm its commitment to its customer base not only in Lebanon, but throughout the region, by opening its doors in the most luxurious shopping district in the country.
To celebrate the opening of its first Beirut store, Louis Vuitton is placing a giant trunk, decorated with the famous monogrammed canvas, in front of the historic building located at 103 Allenby Street. The structure, whose façade dates back to the 1950s, was preserved and restored under the aegis of the city's redevelopment programme undertaken by SOLIDERE, the Lebanese Society for Development and Reconstruction. (iloubnan.info)