Madeira flash floods: Death toll rises to 42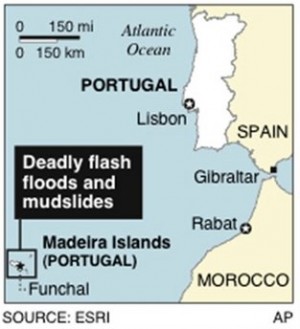 The death toll in flash floods on the ­Portuguese holiday island of Madeira rose to at least 42 as search teams began digging for survivors and environmentalists blamed greed and overbuilding for the scale of the tragedy.
Army and police rescue teams from mainland Portugal started sifting through mud and debris left behind by flooding and mudslides after a torrential storm ravaged the island on Saturday.
Authorities warned that the death toll in the island's worst tragedy for a century would increase as rescuers traveled to towns and villages cut off by floods and rockfalls. Several villages remained inaccessible yesterday and telephone services were still cut in some areas.
More than 120 people, including visiting tourists, were injured and an unknown number of others were missing, possibly swept away or smothered. guardian.uk.