Hariri: I am Lebanon's PM because March 14 won the elections
During an interview with Future and MTV Lebanon's prime minister Saad Hariri stressed that he is the PM because March 14 won the elections and went to Syria to build state-to-state relations :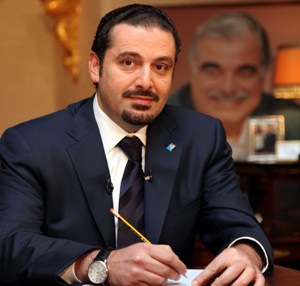 During an interview with Future and MTV Lebanon's prime minister Saad Hariri responded to several questions :
Der Spiegel report and the Tribunal: PM Hariri said that the Special Tribunal for Lebanon is the only party entitled to reveal the truth with regards to the murder of his father Rafik Hariri . He added: They used to say that the tribunal won't be set up, but today it exists , and releasing the 4 Lebanese officers from jail gave it credibility. We shouldn't regard this decision as bad or good, because what concerns us is the truth.
Hariri added: "There is no delay in funding the STL. Everything needed by the STL is being provided,"
Hariri reiterated that the assassins of his father would be held accountable and that he would accept the tribunal's results whatever they may be.
He added: "There should be no rush to predict the result of the STL investigations. We should let it function, and once the results are issued Lebanon will decide how to act," the PM said
Israeli FM Avigdor Lieberman : PM Hariri said: "Lieberman is one of the worst FMs and even Europeans decline to meet with him. This man has no credibility before the entire world. He is threatening Lebanon, we reject these threats, and we are not concerned with his remarks."
May 7 uprising by Hezbollah :" This was a black day in Lebanon's history, and all the preceding and following circumstances created a tension between Sunnis and Shiites. The problem was between Mustaqbal Movement and Hezbollah, which led to a civil strife, and I will make reconciliation with Hezbollah to defuse the tension in the country."
Hezbollah arms: "We took the issue of Hezbollah's weapons to the national dialogue table because we saw what the political tension led us to."
March 14 Christians: " The Christians of March 14 are not excluded from reconciliations; they are present at Cabinet's sessions. Future Movement party takes decisions in concert with the Christian political parties."
Living conditions , Lebanese people: "are concerned with electricity, water, environment, schools, social needs, and roads. Being realistic requires treating those issues because the progress of the country can only be achieved through taking care of people's affairs."
"We have to unite on the issues that join us together," he added
PM's position: "I exist at the Grand Serail because March 14 won the June 7 elections. Back then I said that our hand is stretched to all forces in the country since Lebanon was sharply divided, and we managed to bury the strife before it buries Lebanon"However, Hariri said " Arab reconciliation has contributed to Lebanese and regional stability," adding :"We are looking forward to a better future on the Arab level," he also said.
Hariri praised the Arab reconciliation efforts starting in 2009 when Saudi King Abdullah bin Abdel Aziz took the initiative during the Kuwait Summit to warm ties with Syria.
"What would the situation be like today, in light of all the existing challenges, if the king did not take such a step?" he asked.
Relations with MP Walid Jumblatt: "Progressive Socialist Party leader MP Walid Jumblatt is a main ally to the Future Movement", and added " it is his democratic right to hold opposing stances."
Lebanon reconciliations : "Continuing divisions of Lebanese parties do not serve the country's interests. "We have succeeded in preventing sedition, and that is what counts," he said.
"There are lots of issues which we can agree on and others which we can disagree on. What is important is to place them in their proper framework," the PM added.
Lebanese Forces/ Phalange parties' relations with Hezbollah: "The difference between Lebanese Forces leader Samir Geagea or Phalange Party leader Amin Gemayel with Hezbollah is political, and not sectarian like it was between Hezbollah and Future Movement," Hariri said.
Syria's trip: "I went to Syria in my capacity as the Prime Minister to form state-to-state relations and to turn a new page in the relations between our two countries."
"We have to build trust in the relations between the two countries," he said, adding that he maintains continuing contact with Syrian President Bashar al-Assad.
According to Hariri, the Syrian president expressed clearly that he wants to build state-to-state relations with Lebanon. "We look positively to these relations," he added.
He said he had frank discussions with president Assad about the previous period and discussed how to improve relations in the future.
"In order to build positive relations, we should tackle as a whole the pending issues between Lebanon and Syria, rather than discussing only one point such as the demarcation of borders between the two countries," Hariri also said.
Hariri voiced optimism about the bilateral ties, saying that there are many common factors between the two countries. "We have to build on the positive points due to the complications that were prevailing in the relations over the years," he said.
Syrian warrants : "I don't want to tackle the issue of Syrian warrants because as far as I am concerned they don't exist ". He was referring to the notices issued against Lebanese officials for perjury against former General Security Director Jamil as-Sayyed, one of the four generals that were held in connection to the 2005 assassination of former Prime Minister Rafik Hariri and released in 2009 for lack of sufficient evidence .
"I do not want to talk about the issue," he added.