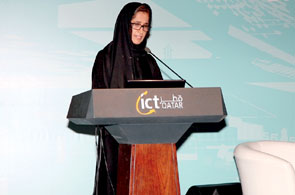 In a major initiative at increasing the Arabic content on the Internet, Qatar intends to develop digital archives of significant Arabic texts for online distribution by 2015, ict QATAR secretary general Dr. Hessa al-Jaber has said.
"In addition, we will be offering a grant program to individuals and organizations that develop digital media in Arabic," she said in her opening remarks at the Digital Communications Literacy Forum at the Sharq Village yesterday.
The region cannot be fully successful in increasing digital literacy unless it increases the amount of Arabic content on the Internet, Hessa said.
Arabic is the fifth most spoken language worldwide, yet only about 1% of all content online is in Arabic. gulf-times