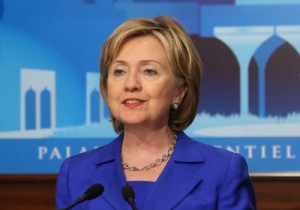 US Secretary of State Hillary Clinton heads to Qatar and Saudi Arabia this weekend amid efforts to boost ties with Muslim nations, revive Arab-Israeli peace talks and tackle security concerns.
During the February 13-16 trip, Clinton is scheduled to attend the US-Islamic World Forum on Sunday in Qatar and meet the state's emir, Sheikh Hamad bin Khalifa Al-Thani and PM / FM Sheikh Hamad bin Jassim Al-Thani, State Department spokesman Philip Crowley said.
During her visit to Saudi Arabia on Monday and Tuesday, Clinton's agenda includes talks with King Abdullah bin Abdul Aziz Al Saud and Foreign Minister Prince Saud Al-Faisal.