Spanish King Juan Carlos in Beirut on 2-day visit
Spanish King Juan Carlos I arrived at Rafik Hariri 's Beirut International Airport, on a two-day visit to Lebanon . President Michel Suleiman welcomed him on arrival at the airport .
In Lebanon he is expected to inspect the Spanish troops serving with UNIFIL in south Lebanon.
Accompanying the King will is Foreign Minister Miguel Angel Moratinos.
The Spanish King will be hosted by President Michel Suleiman at a state dinner in his honor.
The trip comes just days after Spain took over UNIFIL's command which was set up in 1978 to monitor Lebanon's border with Israel.
This trip is reportedly not a state visit . The Spanish king is expected to return to Lebanon on a 3-day state visit along with his wife Queen Sofia in July or September, according to the Central News Agency.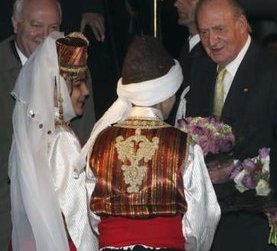 Lebanese children wearing traditional costumes welcome Spain's King Juan Carlos upon his arrival at Beirut international airport, February 8, 2010.