Syria warns Israel: Don't test our determination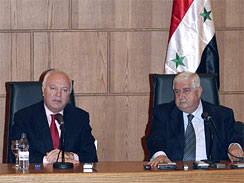 Syria on Wednesday did not rule out a possible war with Israel and used stern language to warn the Jewish state that any future confrontation would be "comprehensive" and reach Israeli cities.
"Israel is indeed planting the seeds of war in the region, I would tell them stop playing the role of thugs in the Middle East," Syrian Foreign Minister Waleed Mouallem told reporters Tuesday in Damascus.
"One day you threaten Gaza, next day you threaten Lebanon, later Iran and now Syria," Mouallem said at the news conference with his Spanish counterpart Miguel Angel Moratinos.
"Don't test, you Israelis, the determination of Syria. You know that war this time would move to your cities. Come to your senses and choose the road of peace. This path is clear," Mouallem warned.
His remarks were a response to Israeli Defense Minister Ehud Barak's own comments on Monday that the absence of a peace agreement with Syria could trigger a new Middle East war.
"No doubt, if we assume that this war would erupt – and we should not exclude this possibility from an entity established on expansion – I would say it is going to be a comprehensive war, whether it starts in the south of Lebanon or from Syria," Mouallem said. CBS