Blair accused of putting war with Iran on the electoral agenda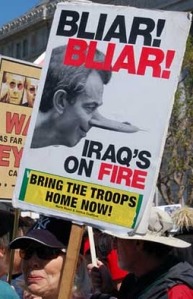 Tony Blair
Tony Blair has been accused of warmongering spin for claiming that western powers might be forced to invade Iran because it poses as serious a threat as Saddam Hussein.
Sir Richard Dalton, a former British ambassador to Iran, accused Blair of trying to make confrontation with Iran an electoral issue after the former prime minister repeatedly singled out its Islamic regime as a global threat in his evidence to the Iraq war inquiry yesterday.
Blair said many of the arguments that led him to confront the "profoundly wicked, almost psychopathic" Saddam Hussein seven years ago now applied to the regime in Tehran.
"We face the same problem about Iran today," he told the Chilcot inquiry. guardian.co.uk