Hariri: We fear an Israeli operation against Lebanon
Lebanon's Prime Minister Saad Hariri arrived Wednesday in Paris for an official three-day visit, heading a delegation of ministers and officials.
Hariri was welcomed by French Minister for Rural Affairs, Town and Country Planning Michel Mercier, Lebanese Ambassador to France Boutros Assaker, French Ambassador to Lebanon Denis Pietton and staff members of the Lebanese Embassy in France.
The delegation traveling with Hariri includes Ministers Elias al-Murr, Ali Shami, Adnan al-Kassar, Ibrahim Najjar, Ziad Baroud, Selim Sayegh and Rayya al-Hassan as well as Hariri's counselors.
In an interview by the French newspaper Le Monde, Hariri said: "We fear an Israeli operation. Last week, 25 Israeli overflights were recorded in one day."
Hariri added : "What have the Israelis done in 2006? All of the bridges in Lebanon were destroyed. Isn't that an aggression against Lebanon?"
"Israel can find any excuse , not to mention it doesn't need excuses and it is not doing anything for the sake of the peace process."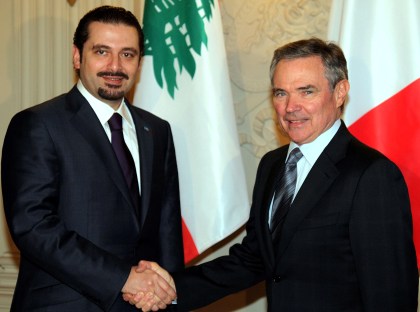 Lebanon's Prime Minister Saad Hariri (L) with Bernard Accoyer, President of the National Assembly of France