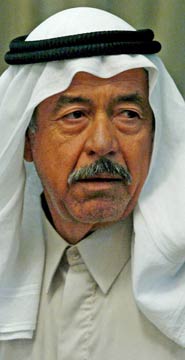 It was his fourth death sentence but yesterday the man known as Chemical Ali was finally found guilty of the crime that gave him his nickname.
Ali Hassan al-Majid, a cousin of Saddam Hussein, was condemned to hang for ordering the poison gas attack on the Kurdish town of Halabja that killed more than 5,000 people, including many women and children. The attack is believed to be the single biggest deliberate gassing of civilians since the Second World War.
Al-Majid now has capital sentences for crimes committed as Saddam's Defence Minister, Interior Minister, intelligence chief and governor of occupied Kuwait.
Relatives of Halabja victims cheered in the courtroom when the chief judge, Aboud Mustafa, delivered the verdict. "I am so happy," said Nazik Tawfiq, 45, a Kurd who said she had lost six relatives in the attack. She fell to her knees and prayed. "Now the souls of our victims will rest in peace." Times