Bullshot: Snorting powder for an "instant energy boost" – Legal in Lebanon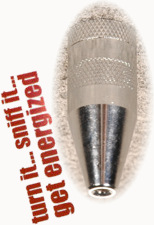 The health ministry on Thursday cautioned that the Bullshot snuff powder is harmful to humans and warned against using the energy product or selling it. Fears rose in Lebanon that the "Bullshot" energy powder would encourage young people to take drugs. Health Minister Mohammed Jawad Khalife accused the importer of Bullshot of selling an unlicensed drug.
Khalife, in remarks published by daily As-Safir on Thursday denied that the importer of Bullshot has a license from the health ministry to sell the product in the market. The Bullshot importer company in Lebanon has claimed that the product was being legally sold in the Lebanese market.
Bullshot, made from Guarana powder, is the first and only energy product in the Middle East that is sniffed, the company website says. It "gives instant sensation of energy boost from the first sniff," it said.
The "Bullshot Kit", which includes a chromed sniffer, 9 grams of Bullshot powder filled in a plastic container, and metal filling device, are sold for $40 according to the company website. (Naharnet)