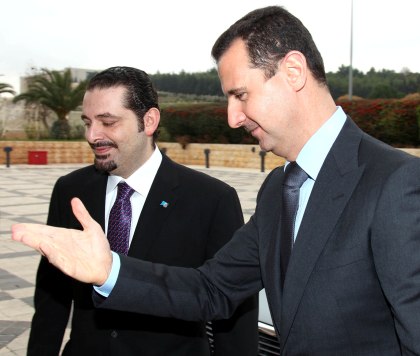 Lebanese Prime Minister Saad Hariri ended Sunday a second round of talks with Syrian President Bashar al-Assad hoping that a new stage will be opened to improve relations between the two countries. "The two leaders held a two-hour meeting and decided to build a new phase in relations between the two countries," a Syrian source who requested anonymity said.
After his talks with Assad, Hariri headed to the Lebanese embassy in Damascus to hold a press conference.
"We want special relations with Syria … based on honesty and openness," Hariri told reporters at the Lebanese embassy adding : "We want to build a better future between the two countries, a future that benefits both countries' peoples," Hariri said. "Serious steps taken by us and President Assad will be taken in several fields."
There should be stronger economic and trade relations between the two countries and improved ties between state institutions, the premier added.
Asked if he had discussed with Assad about the warrants by Syrian court that call for questioning Lebanese officials, Hariri said: "We didn't discuss about the issue. I believe this issue should be solved by involved agencies."
"Lebanon wants the Golan heights to return to Syria and Damascus wants all Lebanese territories occupied by Israel to return to Lebanon" Hariri said
Asked about what message he would deliver to the March 14 forces following his visit to Syria, Hariri reiterated that he was the prime minister of all of Lebanon and his objective was to improve relations with Syria.
Hariri returned to Beirut following his press conference.
Earlier, sources close to the premier said "the talks in Damascus were full of openness and transparency."
Hariri's visit to Syria ends nearly five years of animosity with Damascus. Relations between Saad Hariri and Syria have been tense since 2005, when he accused Damascus of plotting the murder of his father , former prime minister Rafik Hariri. Damascus has consistently denied involvement.
Syria was Lebanon's powerbroker until 2005, when it came under pressure from the Lebanese ( Cedar Revolution) and international communities to end its 30-military presence in Lebanon, following the February 2005 assassination. Syrian troops withdrew from Lebanon in April 2005.
Sources told the daily Lebanese newspaper An Nahar that Lebanon's fundamental demands were met before Hariri's visit to Damascus.
They included the recognition of Lebanon's sovereignty by opening embassies in the two countries and keeping the Hariri assassination issue excluded from overall relations between Lebanon and Syria.
The sources added that there are still pending issues such as demarcation of the border, finding a solution to Palestinian arms outside refugee camps and the issue of Lebanese missing in Syria.
On Saturday, Assad gave Hariri a warm welcome at the capital's Tishrin palace. The Syrian leader broke with the usual protocol by inviting Hariri to stay at the Tishrin guest palace which is normally reserved for visiting monarchs and heads of state.
Syria's state-run SANA news agency said Assad and Hariri discussed in their three-hour meeting Saturday how to "bolster bilateral cooperation" and "ways of overcoming the negative effects which marred" ties in the past.
Lebanese local media quoted Hariri as saying that he assured Assad that the Lebanese government is looking forward to making "real and strategic" relations with Syria that would benefit the interests of the people of both their countries.
He said that "special relations between Lebanon and Syria strengthen the countries' positions and contribute to the protection of Lebanon in the face of Israeli threats."
For his part, Assad was quoted as telling Hariri that Syria is keen on maintaining "the best" relations with Lebanon to guarantee the common interests of the Lebanese and Syrian people: "Syria will make efforts to serve unity in Lebanon and the country's security and stability."
Meanwhile in Beirut, the leader of the Lebanese Shiite movement, Hezbollah, Sheikh Hassan Nasrallah, described Hariri's visit to Damascus as "important and historic" , "a positive step that promotes a calm and relaxing climate in Lebanon and would help "avoid any "Shiite-Sunni strife." Source: DPA