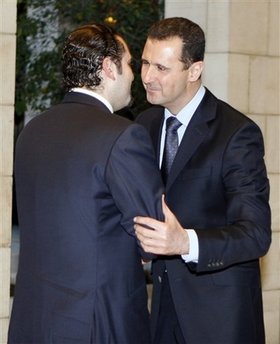 The Lebanese and the Syrians reacted to the of Lebanese prime minister Saad Hariri to Syria and his meeting with president Bashar al  Assad . Here is a sampling of the  reactions
SANA, The Syrian Arab New  Agency said : " Assad's meeting with Hariri created new horizons for the cooperation of the two countries in all fields."
Buthaina Shaaban, advisor of the Syrian president said : The mood of the meeting was positive and added :" The issue of border demarcation between Lebanon and Syria was discussed and many steps will be taken in this regard. The discussion also tackled other issues.
Zahle MP Nuhad al-Mashnouq told  LBC: "Hariri's visit to Damascus  aims toat "breaking the  ice" first and then to move on to the pending issues between the two countries."
Kataeb MP Sami Gemayel told  Manar TV: "Nothing about Hariri's visit to Syria calls for commenting so far"
A  Syrian official told  Tele Liban: "Hariri's visit is important in shape and content."
Amal MP Qassem Hashem said :" Hariri's visit to Syria is the beginning for putting back the brotherly Lebanese-Syrian relations on their  natural track.
Lebanon First  MP Bahia Hariri, aunt of the PM said : It is natural when PM Hariri visits Syria as the premier of all of Lebanon government. In the end, Syria is the closest country to us, and hopefully the visit will produce stability and security in Lebanon.
Lebanon First MP Ammar Houry told  LBC: "Hariri's visit to Syria represents the gateway toward a new stage and it is a positive  in the  right  direction.
Update Dec 20, 2009 : More reactions
Former Lebanese president and Phalange leader Amin Gemayel said : We have supported Hariri's visit to Syria right from the beginning as a first step in addressing the problems but the wound is too deep
State minister Adnan al Sayyed told an Nahar : Hariri's visit to Syria is important , because this is the first time a member of the Hariri family meets with a Syrian leader since the assassination of former PM Rafik Hariri
Former Prime Minister Fouad Siniora said after meeting with delegations from the city of Sidon that the visit of Prime Minister Hariri to Syria is important and God willing, the results will be satisfactory to the two brotherly countries.
Hezbollah sources told An Nahar that the leaders of the party are treating the visit of PM Saad Hariri as an important and historic event and that the party is following up minute by minute the developments and is hopeful that this will reflect positively on stability in the Lebanese internal situation . The sources added : "The party hopes the visit will also contribute to a normalization of relations between the two countries and will promote national unity. "
This error message is only visible to WordPress admins
Error: No connected account.
Please go to the Instagram Feed settings page to connect an account.