Aoun in Syria for talks with Assad
Free Patriotic Movement MP Michel Aoun, traveled to Damascus on Wednesday for talks with Syrian President Bashar Assad, a source close to Aoun said. Aoun, whose movement has close links with the Iranian and Syrian backed Hezbollah movement, last visited Syria a year ago.
Aoun returned to Beirut following his trip that lasted only a few hours.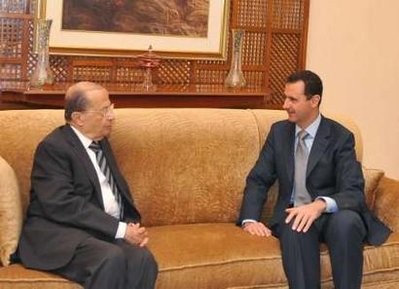 MP Michel Aoun ( L) with Syrian President Bashar Assad. LBC TV reported that the Syrian president had sent a private jet to take Aoun to Damascus along with former minister Michel Samaha and a delegation from FPM.