Mitchel has not given up on peace in the ME
Full text of Wednesday's briefing at the US State department by US special envoy to the ME former Senator George Mitchel.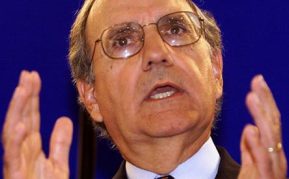 MR. WOOD: Good afternoon, everybody. Welcome to the briefing. As promised, Senator Mitchell is here, and he is going to give you an update on the recent announcement by the Israeli Government with regard to settlements. So without further ado, Senator Mitchell.
MR. MITCHELL: Great. Good afternoon, ladies and gentlemen. Prime Minister Netanyahu has just announced his government's moratorium on new settlement buildings. I think it's important to look at this issue in a broader context, particularly how it affects the situation on the ground and how it can contribute to a constructive negotiating process that will ultimately lead to an end to the conflict and to a two-state solution.
It falls short of a full settlement freeze, but it is more than any Israeli Government has done before, and can help move toward agreement between the parties. As President Obama has said many times, we believe that a two-state solution to the conflict is the best way to realize the shared goal of Israelis and Palestinians to live in peace and security. It is also in the national security interest of the United States. It is urgently needed.
The President knows that achieving this goal will be difficult, but he also has said that he will not waiver in his persistent pursuit of a comprehensive peace in the Middle East. For that reason, he has dedicated himself and his Administration to the resumption of Israeli-Palestinian negotiations and to the creation of an atmosphere that maximizes the prospects for success.
To be clear, the steps we have suggested to all parties – Israel, the Palestinians, and the Arab States – to improve the atmosphere for negotiations are not ends in themselves, and they certainly are not preconditions to negotiations. But they can make a valuable contribution toward achieving our goal of successful negotiations that result in a two-state solution. That's why we've urged the Palestinians to expand and improve their security efforts and to take strong and meaningful action on incitement. It's why we've urged the Arab states to take steps toward normalization of relations with Israel, and it's why we've urged Israel to stop settlement activity.
As I said earlier, while they fall short of a full freeze, we believe the steps announced by the prime minister are significant and could have substantial impact on the ground. For the first time ever, an Israeli Government will stop housing approvals and all new construction of housing units and related infrastructure in West Bank settlements. That's a positive development. The Israelis have said that the only exception will be a small number of public buildings, such as schools and synagogues, within existing settlements. Under the moratorium, those buildings already under construction will be completed. But the number of buildings under construction will decline since, as each new building is completed, there will not be a new building started. So implementation of the moratorium could mean much less settlement construction than would occur if there is no moratorium.
The steps announced today are the result of a unilateral decision by the Government of Israel. This is not an agreement with the United States, nor is it an agreement with the Palestinians. United States policy on settlements remains unaffected and unchanged. As the President has said, America does not accept the legitimacy of continued Israeli settlements.
We recognize that the Palestinians and other Arabs are concerned because Israel's moratorium permits the completion of buildings already started and limits the effect of the moratorium to the West Bank – concerns which we share.
As to Jerusalem, United States policy remains unaffected and unchanged. As has been stated by every previous administration which addressed this issue, the status of Jerusalem and all other permanent status issues must be resolved by the parties through negotiations.
The United States also disagrees with some Israeli actions in Jerusalem affecting Palestinians in areas such as housing, including the continuing pattern of evictions and demolitions of Palestinian homes. The United States has not accepted and disagrees with any unilateral action by either party which could have the effect of preempting negotiations. As we and others have said many times, the way to move forward is to enter negotiations without preconditions and reach agreements on the two-state solution: a Jewish state of Israel living side by side in peace and security with an independent, contiguous, and viable Palestinian state.
As the Secretary of State said today, and I quote, "Today's announcement by the Government of Israel helps move forward toward resolving the Israeli-Palestinian conflict. We believe that through good-faith negotiations, the parties can mutually agree on an outcome which ends the conflict and reconciles the Palestinian goal of an independent and viable state, based on the 1967 lines, with agreed swaps, and the Israeli goal of a Jewish state with secure and recognized borders that reflect subsequent developments and meet Israeli security requirements. Let me say to all the people of the region and world: Our commitment to achieving a solution with two states living side by side in peace and security is unwavering." That's the end of the Secretary's quote.
Despite the difficulties and the complex political circumstances in the region, we are committed to the re-launch of negotiations and to the two-state solution. We will not be deterred by setbacks. We are determined to stay the course in the cause of comprehensive peace in the Middle East.
Thank you, ladies and gentlemen, and I'll now be pleased to respond to your questions.
QUESTION: So we all thought you were going to come down here and say you were frustrated and you were going to resign, but I guess that's not the case. (Laughter.)
You're going to keep at it? I guess the question is: Is this the best that you could get? And are you going to try to sell it to the Palestinians as the best that they could get? As you probably know, senior Palestinian officials have already come out and said this is not enough, it has to – anything has to include East Jerusalem. And this, as you noted, does not. So I guess the bottom line is: Is this the best you could get out of the Israelis?
MR. MITCHELL: I'll address the latter part of your question first and then I'll return to your earlier comment. Our goal remains the re-launch of negotiations as soon as possible in an atmosphere in which they can succeed. We recognize that the internal political situation is more challenging on both sides, especially in light of the after-effects of the Goldstone report. We've always intended that negotiations will proceed on a variety of tracks, including high-level direct talks that establish the framework and set the tone, parallel talks with the U.S. about key issues, and lower-level direct talks where the details of issues are often worked out. Given the current environment, we think it makes sense to explore a re-launch of negotiations through a mix of these tracks. As the Secretary said, we believe that the differing views of the parties can be reconciled through good-faith negotiations.
Now, as to your earlier comment about being discouraged, although there are many differences between the Middle East and Northern Ireland, in this respect, my experience there is relevant. Over a period of five years, I chaired three separate sets of discussions. The main negotiation lasted for nearly two years. For most of that time, there was little or no progress and our effort was branded a failure. The question you asked me today I was asked hundreds of times there. But then after two years of saying no, both sides said yes. In a real sense, we had 700 days of failure and one day of success.
I know that if anything, the Middle East is more difficult and more complex. But no matter where the conflict is or what it's about, if you're serious about peace, you can't take as final the first no, the second no, or even the hundredth no. You can't get discouraged by setbacks and you can't be deterred by criticism. You have to be patient, persevering, and determined. Neither the President, the Secretary of State, nor I have ever promised anything other than a total commitment to comprehensive peace in the Middle East. That remains our commitment and our goal.
MR. WOOD: Janine.
QUESTION: Senator Mitchell, given that you're hoping this will launch final status talks, I was wondering if you could talk to us a little bit about any contacts you've had with President Abbas since he announced that he doesn't plan to run. And do you think he's sincere about that? Or what has the United States been doing to try to convince him – or if they are, maybe they're not – to stay on?
MR. MITCHELL: I've had several meetings with President Abbas since then, and several conversations. We have encouraged him to remain in office and to work with us in achieving his longstanding goal of a two-state solution, which includes, as I said earlier, an independent, viable, and contiguous Palestinian state. We hope that he does stay. We hope to continue working with him.
MR. WOOD: Michel.
QUESTION: Yes. Senator Mitchell, Matt has asked this question, but the Palestinian Authority has refused the Israeli offer because it doesn't include the East Jerusalem. How can you push them to go to the negotiations?
MR. MITCHELL: Well, as I said, we believe that the best way forward is to re-launch negotiations in an atmosphere in which they can succeed. We will encourage both sides to continue to take steps that will lead to that result and enable us to begin negotiations in a way that affords what I believe to be a reasonable and good prospect of achieving what the Palestinians want and what we want; that is, a two-state solution with an independent and a viable and a contiguous Palestinian state, and a state of Israel living with secure and recognized borders with security for all of its people. And we are going to continue to pursue that objective.
MR. WOOD: Kirit.
QUESTION: Kirit Radia with ABC News. You've got now a 10-month window. Do you think that's long enough? What would you like to see happen during that period? What would you like the Palestinians to do next? And where do you see the process 10 months from now?
MR. MITCHELL: We would like very much to begin negotiations on the permanent status issues. As I said earlier in my response to the first question, we think the best approach is a mix of contacts – direct, bilateral in some cases, at varying levels, contacts with us for discussions on permanent status issues. We hope that there will be substantial progress. My personal and fervent wish is that we will during this process at some point have a resolution of the issue of borders so that there will no longer be any question about settlement construction, so that Israelis will be able to build what they want in Israel and Palestinians will be able to build what they want in Palestine. And we think that the negotiations should begin as soon as possible. We hope that they will be time limited to a period at the end of which all of the permanent status issues will be resolved and the people of the region can achieve their objective.
I want to be clear, however, that while this discussion has understandably focused on the Israeli-Palestinian negotiations, when the President addresses his vision of comprehensive peace, he includes, in addition, Israel and Syria, Israel and Lebanon, and the full normalization of relations between Israel and all of its Arab neighbors. And we're going to continue to pursue those objectives at the same time with the same vigor.
MR. WOOD: Right here. And please state your name and news organization.
QUESTION: Muna Shikaki with Al-Arabiya TV. There is talk about terms of reference from the Americans as guarantees to the Palestinians so that they can resume negotiations, including 1967 borders, changing some areas from B to A, and perhaps releasing some prisoners. Is there – are there any American guarantees or terms of reference that you're preparing?
MR. MITCHELL: We have been in discussions with both Israelis and Palestinians for some time regarding terms of reference for negotiations. We have closed many gaps between them. And while admittedly important differences remain, we've made very substantial progress. And we continue to explore those, and I will pursue those on my next visit to the region, which will be in the near future, to continue that dialogue and that effort as part of trying to bring the parties together.
In addition, some of the points you mentioned represent steps that Israel can take, and we have encouraged action in that regard as a means of both steps to create an atmosphere toward conducive and what we hope will be good-faith and constructive negotiations, and as ways to move us toward the final result.
MR. WOOD: Glenn.
QUESTION: Hi, Glenn Kessler with The Washington Post. I mean, I noticed you didn't, in your statement, call this unprecedented, though you came very close to that. And I'm just wondering, was there – is there anything different between what Israel has outlined today versus what the Secretary labeled as unprecedented when she was in the region a few weeks ago? And can you outline in what ways this is superior to the unstated agreement that the Bush Administration had with the state of Israel?
MR. MITCHELL: Well, first, I said that this has never happened before, and if you look in the dictionary, that is the definition of unprecedented. (Laughter.)
QUESTION: I know, but there was – that word was loaded. So like I said, you came close to unprecedented.
MR. MITCHELL: Nothing like this occurred during the Bush Administration. From 2000 to 2008, there were new housing construction starts on nearly 20,000 new housing units, 9,000 of them between 2004 and 2008. In the moratorium just announced by the Government of Israel, there will be no new housing construction starts during the 10-month period. None. There will be no approval of any housing projects during the 10-month moratorium. None. No Israeli Government has ever taken this step, and nothing remotely like this occurred during the Bush Administration.
QUESTION: John Terrett from Al Jazeera English Television. The desk has just sent over to me here Mahmoud Abbas's comments, and he's pressing the necessity that Israel put an end to illegal settlements on Palestinian territories, which he says block the viability of the geographic border of the future Palestinian state, which must have East Jerusalem as its capital. Could you talk to what you think it is in this announcement today by Mr. Netanyahu that you think the Palestinians should find some optimism in or some hope in?
MR. MITCHELL: Anyone who opposes settlement construction, continued settlement activity, as does the United States, should, of course, take into account that under the moratorium announced today, there will be much less settlement housing construction activity than there would have been if there were no moratorium. That's a fact.
Now, we will continue in our efforts to persuade the parties that the best way forward is to enter negotiations, with the United States as an active participant and supporter of the parties, encouraging them in their direct talks to move forward. And we believe that's the best way to achieve what is the common goal, not just of the leaders, but more importantly, of the people they represent on both sides to be able to live in peace and security. And we will continue to pursue that objective vigorously and to seek to persuade both sides that the way forward is through negotiation and agreement.
MR. WOOD: Question here. We're going to take two more after this.
QUESTION: Yes. Joyce Karam with Al-Hayat newspaper. Senator, there are many cynics in the Arab world that are saying if Washington couldn't get the Israelis to completely freeze settlements, how can they force them to withdraw to the 1967 borders? I mean, how do you respond to this? What kind of assurances can you give the Arab world that these negotiations are – be different than the one we had previously multiple times? And what can the Arab governments do to contribute to the success of such negotiations?
MR. MITCHELL: Right. As I mentioned briefly in response to an earlier question and in my remarks, we have asked all of the Arab governments to join in the effort in support of the Arab Peace Initiative to take steps toward normalization of relations with Israel. We've not asked anyone to take the final step of full normalization.
What we've asked is gestures, actions, statements and movement in that direction. For example, we are seeking, and we believe we've gotten a good response, to a multilateral track in which several governments of the region would meet to discuss regional issues that they have in common, such as energy and water, which would follow the resumption of direct negotiations. It won't occur before then, but if direct negotiations can get underway, we believe this could occur.
And this would operate to the benefit of everyone in the region, whatever country they happen to live in, because it would help to deal with these important issues that they all face in common. And we think that increased contacts between political and nonpolitical leaders, cultural and other exchanges, trade relations and other forms of contact for mutual benefit, all of that can form an ever-strengthening web of support for the concept of normal relations throughout the region.
Now, in response to your first question, of course, there can be no absolute total guarantee in advance of what is going to occur in a negotiation. I said earlier that if you're serious about this, you can't take the first or the second or the hundredth no for an answer, and that has to be the case here. We have to continue to urge, to encourage, to seek to persuade. The alternative is to accept for the people of the region endless conflict, never-ending disagreement, and the absence of opportunity and hope for the future.
Now, nobody gets everything they want in a negotiation seeking to resolve a conflict like this. There has to be a willingness on everyone's part to give more than they want to give and to accept less than they want to get. That applies to everyone in the process. That takes time, it takes patience, it takes courageous leadership. I believe that it can and will be done for one overriding reason: It is in the best interest of the people of the region – Israelis, Palestinians, and other Arabs.
A continuation of this conflict and further delay in attempting to resolve it does not serve the interest of any of them. And the leadership now should commit themselves that the next generation – young people now growing up, those yet to come, Israeli, Palestinian and Arab – don't have to live through what the present leaders have had to live through. And we believe that that can be done, and we are determined that it will be done.
MR. WOOD: The gentleman right here, please.
QUESTION: Thank you. Senator Mitchell, you're making it sound as though the Israelis have given a concession by their decision today to temporarily phase the building of new settlements, when it is actually an agreement that had taken place in Annapolis meeting years ago, during the Bush Administration. Now, asking the Arabs also to normalize – to take steps to normalize the relations with Israel – is like putting the horse before the cart where it is actually supposed to be a result of a peace agreement.
Now, the Syria Government – and I am Syrian reporter, my name is Zaher Imadi. I'm sorry I didn't mention that.
MR. WOOD: That's all right.
QUESTION: But the Syrian Government has welcomed so much the speech of President Obama – your mission. But President Asad has asked in the last interview if there were any roadmap to execute the peace agreement or peace negotiations that are supposed to take place in the future with the Israelis. Do you have any elaborate plan or detailed plan for your mission where the steps could be taken, one after the other, that you could emphasize that the parties must take in order to bridge that peace. What is your goal? Do you still recognize 232, 338, the United Nations resolutions? Is it peace-for-land kind of negotiations? I need some explanation along these lines, Mr. Mitchell, please.
MR. MITCHELL: Well, thank you. I'll attempt to provide it.
QUESTION: Thank you.
MR. MITCHELL: We've been consulting intensively with Israel and Syria for several months. We're seeking a mutually agreeable basis for the parties to renew talks, and we have strongly encouraged them to do so. Both sides are well aware that President Obama's vision of comprehensive peace, as I've just explained a few moments ago, includes Israel and Syria. We think that is an important part of the objective.
I have met with President al-Asad and with Prime Minister Netanyahu and discussed directly with them our hope and our encouragement that peace talks be revived, and we will continue in that effort. Until now, while they both state a willingness to get into them, their differences on how to do so have prevented them. The Government of Syria wishes to conclude the indirect talks which were begun through Turkey last year before going to direct talks. The Government of Israel prefers to go directly to direct talks without preconditions. We are attempting to find a mechanism on which both can agree, because we think it's important that they begin the process. We want them to do so. We want to support that effort in any way that we can. And that will continue.
MR. WOOD: Last question, back here. Please, the lady. Yes.
QUESTION: Thanks so much. This is Tulin Daloglu with the Turkish daily newspaper Haberturk. You talked about the Israeli-Syrian talks, and Turkey has played a role in that. Do you still see a role for Turkey to play at this time?
MR. MITCHELL: I have had several meetings with Turkish officials, including the president, the prime minister, the foreign minister, and others. And we welcome their further participation, but that is, of course, a decision for the parties to make, whether or not they wish to continue the indirect talks in that manner. So it would be up to them to decide how best to proceed. I have told the Turkish officials and both the Syrian and Israeli officials we welcome that as one mechanism. We welcome any mechanism that will result in progress.
And so we hope – I intend to make this a part of my discussion in my next visit, because we do want this process to proceed, not to the detriment of, not as an alternative to, talks between Israelis and Palestinians. I want to make that very clear. These are not exclusive alternatives. These both must happen. We believe they both should begin. And we will encourage the parties and we ourselves will do all we can to make that possible.
Thank you very much, ladies and gentlemen, for your presence here today.
Source: US State Dept