Signs of optimism finally emerge over Lebanon cabinet formation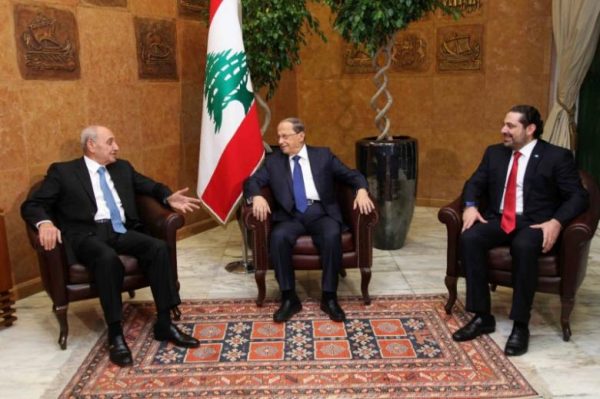 Finance Minister Ali Hassan Khalil , a close ally of Speaker Nabih Berri said Tuesday that a new government "is likely be formed before the Christmas vacation."
Khalil said if the discussions — aiming at ending more than seven months of deadlock because of wrangling between political parties over quotas and ministerial seats– continue in the "positive direction" they "could lead to fruition," Lebanese media reported on Tuesday
Khalil affirmed that a positive outcome will have "positive effects on the financial and economic sectors," in the country.
As the Finance minister Khalil is well aware that the political stalemate that's delayed formation of a government is undermining plans for reforms that would unlock $11 billion in aid.
Moody's recent credit rating for Lebanon at B3 is six levels below investment grade and this rating is assuming that the government will soon be formed. All these signs indicate that Lebanon's economy could soon collapse  if no no government is formed to reform the economy.
Prime Minister-designate Saad Hariri's efforts to form a new government have been delayed since his designation in May because of disagreements between political parties over cabinet shares and quotas.
The government was on the verge of formation on October 29 after the Lebanese Forces accepted the portfolios that were assigned to it but a last-minute hurdle over the representation of pro-Hezbollah Sunni MPs surfaced.
Last week, President Michel Aoun kicked off consultations with the concerned parties in a bid to resolve the last hurdle facing the government formation .
Ibrahim
Another sign of optimism emerged Tuesday after General Security chief Maj. Gen. Abbas Ibrahim , another close ally of Speaker Berri met with the pro Hezbollah Sunni MPs
He stated after holding talks with the MPs that an "initiative" to ease the government formation impasse has been "crowned with success," without disclosing the candidate's name to represent said MPs.
"Our initiative has been crowned with success. I want to extend my gratitude to President Michel Aoun," Ibrahim told anxious reporters, referring to the President's week-long consultations with concerned parties to end the impasse.
"Our meeting with MPs is the first step towards the completion of the initiative. Things are going by leaps and bounds heralding a close government," added Ibrahim.
One of the pro-Hezbollah MPs Abdul Rahim Mrad said: "We appreciate the efforts of Ibrahim. His efforts were successful. The entire problem has been solved."
Mikati
Similarly Former PM Najib Miqati stressed on Tuesday that President Michel Aoun is "confident" the government crisis will be resolved.
In remarks he made after meeting the President in Baabda, Miqati told reporters: "The President is confident the government will be formed and he is reassured that there is a work calendar for implementation immediately after the formation."
Berri was reportedly "betting on Aoun's success" in achieving a breakthrough but was angered after hearing that the the initiative "hit a brick a wall," media reported on Saturday.
According to analysts it appears that Berri , a close ally of the Iranian backed Hezbollah militant group is spearheading the move to help Aoun succeed.