Brazil's far-right presidential candidate stabbed while campaigning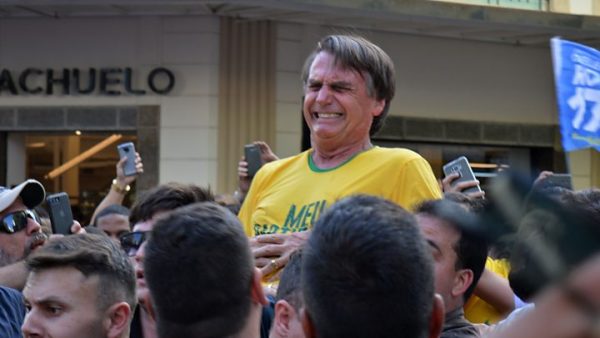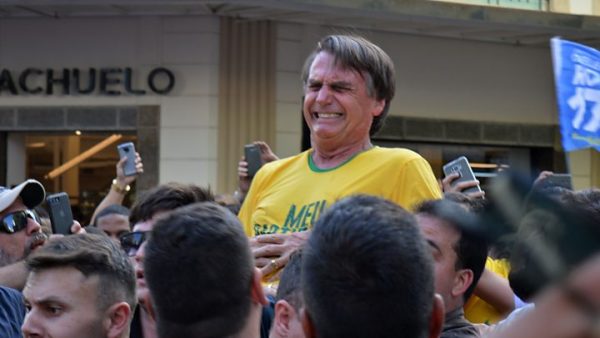 Brazil's right-wing presidential frontrunner Jair Bolsonaro underwent emergency surgery on Thursday after he was attacked with a knife while campaigning in the countryside, officials said.
The 63-year-old lawmaker has "a wound in the abdomen that has been caused by a sharp instrument," said the Santa Casa hospital in the southeastern city of Juiz de Fora, describing his condition as "stable."
In a press conference after the surgery, doctors said the lawmaker had "three serious bowel perforations" that caused internal bleeding, adding that they had performed a colostomy and he was now stable.
Earlier, one of the candidate's sons, Flavio Bolsonaro, had announced on Twitter that his father's wounds were "superficial", but he later wrote: "Unfortunately, it's more serious than we thought."
Images shared on social media and Brazilian television showed Bolsonaro being carried on the shoulders of a throng of supporters, before a man lunges at his stomach.
A military police spokesman told AFP a 40-year-old man had been arrested in connection with the assault. The suspect was carrying a knife wrapped in fabric, the spokesman said. The suspect was a former activist of a far-left political party.
Social media footage showed the apparent attacker being grabbed by several Bolsonaro supporters before the video cuts out.
President Michel Temer quickly condemned the attack and instructed his Minister of Security Raul Jungmann to reinforce security for candidates and conduct "a rigorous investigation," a spokesman for the presidency told AFP.
"It is intolerable to see that in a democratic state it is not possible to have a normal campaign," said Temer.
Brazil's Trump
With jailed former president Luiz Inacio Lula da Silva ruled out of the October 7 election, the latest polls from the Ibope Institute put Bolsonaro in a clear lead with 22 percent compared with 12 percent each for environmentalist Marina Silva and center-left runner Ciro Gomes.
One of his campaign pledges has been to legalize the carrying of weapons in order to combat rising violent crime.
Despite being a long-serving member of Congress, Bolsonaro has successfully presented himself as an outsider, untouched by the corruption scandals engulfing so much of the political elite.
Perhaps the message that carries furthest is Bolsonaro's push for a harder crackdown on crime — in a country where police are already often engaged in low-level wars against gangs. About 64,000 people die in homicides every year.
Yet he has also courted deep controversy with comments attacking women and sexual minorities, as well as for praising the country's 1964-1985 military dictatorship.
Sometimes described as Brazil's Donald Trump, Bolsonaro has a huge social media following of 8.5 million people.
The only Brazilian politician currently more popular is the leftist ex-president Lula — who is in prison for corruption and has been banned from competing in October's election.
(AFP)