Cubana Flight CU972: Passenger plane crashes in Cuba, many feared dead, injured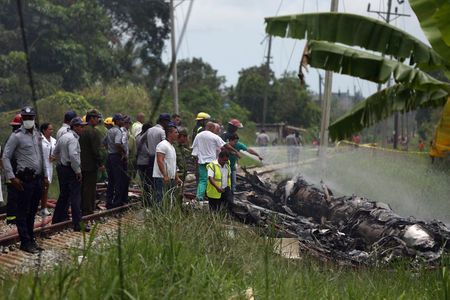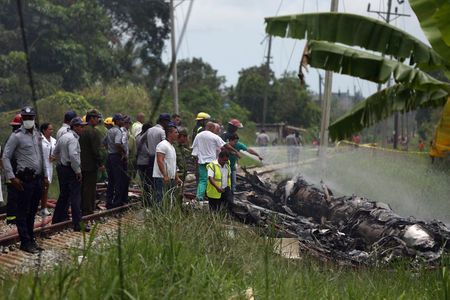 At least three people possibly survived a fiery crash of a Boeing 737 plane in Cuba on Friday in which a number of the 114 passengers and crew were feared dead or injured, Reuters witnesses and officials said.
The aircraft on a domestic flight to Holguin had 105 passengers plus nine crew, Cuban state-run media reported, adding that there were five children on board. Earlier reports on state media said there were 104 passengers.
The fire from the crash had been put out and authorities were identifying bodies, Cuban President Miguel Diaz-Canel said. Earlier he had told Agence France Presse that "it appears there is a high number of victims."
Wreckage was strewn over the area 20 km (12 miles) south of Havana and ambulances and firefighters were at the scene, a Reuters witness said. Blackened parts of the fuselage were visible.
"We heard an explosion and then saw a big cloud of smoke go up," said Gilberto Menendez, who runs a restaurant near the crash site in the agricultural area of Boyeros.
Carlos Alberto Martinez, the director of Havana's Calixto Garcia hospital, told Reuters four victims of the accident had been brought there. One had died and the other three were in a serious condition.
"She is alive but very burnt and swollen," said a distressed relative of one of the survivors at the hospital.
The flight was destined for Holguin in eastern Cuba and was leased by airline Cubana from a small Mexican airline called Damojh or Global, Cuban state media said. Holguin has some of the island's most pristine beaches, and attracts tourists.
Cubana declined to comment. A Damojh representative in Mexico said "we are gathering what we can to give correct information."
The nationality of those on board was not immediately clear. State media said that the crew were foreign, but provided no further details.
Flight tracking websites indicated the flight was CU972, departing Havana at 11 a.m. (1500 GMT).
CUBANA COMPLAINTS
Boeing Co said in a Twitter post: "We are aware of news reports out of Cuba and are closely monitoring the situation."
Boeing 737 aircraft use engines made by CFM International, the supplier of the world's most-used engines, built by a joint venture of GE and France's Safran.
On Thursday, Cuba's First Vice President Salvador Valdés Mesa had met with Cubana bosses to discuss public complaints about its service, according to state-run media. Problems included the cancellation of numerous domestic flights this year, and long delays which the company said were caused by technical problems with its aircraft.
Earlier this month, the company was ordered to suspend flights by its six Russian built AN-158 aircraft, of which most had reportedly already been grounded.
The last fatal crash in Cuba was in 2017, the Aviation Safety Network said. It was a military flight that killed all eight personnel aboard. In 2010, a commercial Aero Caribbean plane crashed in central Cuba. All 68 people on board were killed.
The latest available information on Cuba from U.N. safety aviation agency ICAO, dating back to 2008, ranks it above the global average – though that preceded the latest three crashes.
 REUTERS