World leaders reaffirm support for Lebanon's Hariri at Paris talks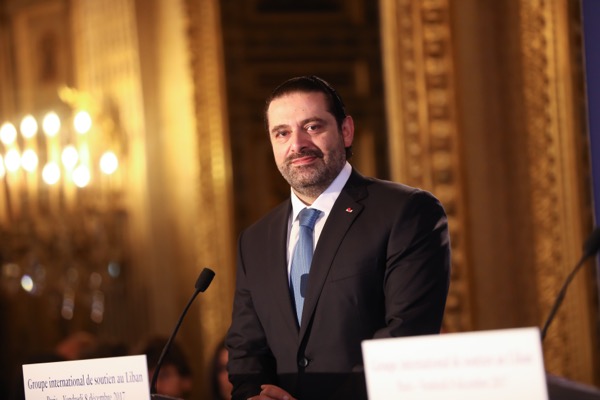 Lebanese Prime Minister Saad Hariri met world leaders for crisis talks in Paris on Friday as Lebanon tries to chart a path through the regional power struggle between Iran and Saudi Arabia.
The International Support Group for Lebanon was launched in September 2013, partly in response to the massive influx of refugees entering the country from the conflict in neighbouring Syria.
Friday's talks were hosted by French President Emmanuel Macron, who helped Hariri resolve the crisis sparked by his shock resignation, which he announced from Riyadh last month and then rescindedthis week.
Representatives of all five permanent members of the UN Security Council, including US Secretary of State Rex Tillerson, were in attendance along with envoys from Germany, Italy and regional powerhouse Egypt.
Kicking off the talks, Macron called on the international community to safeguard the country's unity and sovereignty. The French president warned both Lebanese parties and foreign powers against dragging the country into the Middle East's regional conflicts.
"For Lebanon to be protected from crises, it is vital that all Lebanese parties and all regional powers respect the fundamental principle of non-interference," he said.
Hariri warned after the meeting that any breach of Lebanon's non-interference policy would drag the country back into the "danger zone". Referring to the Syrian refugee crisis, the Lebanese premier noted that his country "is paying a very big price on behalf of the entire world" by hosting an estimated 1.5 million refugees.
Announcing a series of conferences on the Lebanese crisis for next year, French Foreign Minister Jean-Yves Le Drian said the refugee issue would be addressed at a meeting in Brussels.
Le Drian said further events would be held in Paris and Rome to come up with concrete measures to buttress Lebanon's economy and strengthen its armed forces at a time of growing regional turmoil.
Proxy battleground
Hariri's resignation announcement on November 4 sent shockwaves through Lebanon, long a proxy battleground for regional powers Saudi Arabia and Iran. The Lebanese leader then remained in Riyadh for two weeks, sparking rumours that he was being held hostage by the Saudis.
Saudi Arabia is suspected of pressuring Hariri, a longtime ally, to resign as its simmering regional rivalry with Iran began to escalate this autumn.
Macron intervened to try to defuse the crisis by inviting Hariri to Paris for talks, after which the Lebanese leader returned to Beirut to a hero's welcome.
In his televised announcement Hariri lambasted Tehran and its ally in the Lebanese government – the powerful armed movement Hezbollah – for destabilising his country.
More broadly, Arab states have denounced Tehran's growing influence in the region through the use of armed groups as proxies, from Hezbollah in Lebanon to the Houthis in Yemen and others in Syria and Iraq.
Power play backfires
Riyadh's power play paradoxically led the divided Lebanese factions to come together to avoid a political breakdown.
Following consultations with the various political groups in Lebanon, Hariri announced Tuesday that he was withdrawing his resignation.
The Lebanese cabinet issued a joint statement to reaffirm their commitment to staying out of regional conflicts and apparently put an end to the month-long Hariri saga.
Hariri thanked the French president for his help in resolving the stand-off. He also welcomed the forthcoming conferences on support for Lebanon's economy and armed forces.
"Lebanon's ability to tackle its economic and social challenges is crucial to the country's stability," the Lebanese prime minister said.
Both Hariri and Macron also touched on Washington's recognition of Jerusalem as the Israeli capital, warning that US President Donald Trump's move threatened stability throughout the region.
With protests under way on Friday across the Arab world over the decision, Macron said he was "launching an appeal for calm and responsibility".
(FRANCE 24 with AFP)