Saudi-Iran Tension Rattles Lebanese Bonds After PM Resignation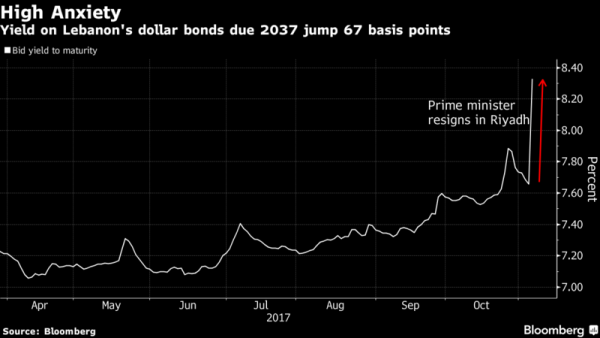 Lebanese bonds dropped on Monday after Prime Minister Saad al-Hariri unexpectedly resigned in a speech from Saudi Arabia, raising concerns that a renewed confrontation between the kingdom and regional rival Iran could destabilize the country.
The yield on Lebanon's $750 million Eurobonds due 2037 jumped 63 basis points, the most since they were issued in March, according to data compiled by Bloomberg. Shares in Solidere, the property developer founded by Hariri's late father, plunged 7.6 percent.
Hariri announced his resignation from Saudi Arabia on Saturday, blaming Iran and Hezbollah, the militant group backed by the Islamic Republic, for creating a state within a state. Investors could be worried that his decision may be linked to regional and international efforts to curb Iranian influence in Lebanon, according to Raza Agha, the London-based chief economist for the Middle East and Africa at VTB Capital Plc.
The long-term outlook in Lebanon is less in question, but "Hariri's resignation, and the blame placed on Iran and Iranian proxies, will up domestic political tensions," he said.
Hariri, a pro-Saudi politician, stepped down at a time when the Islamic Republic and its allies are widely seen to have won the proxy war against Sunni powers in neighboring Syria. Saudi Arabia and Iran are also on opposite ends of other regional conflicts including in Yemen and Iraq.
Lebanon's central bank Governor Riad Salameh said on Monday that the crisis was political and not monetary, with no impact on the currency.
The resignation comes as Lebanon struggles with a ballooning budget deficit that the International Monetary Fund expects to reach about 10 percent of economic output. The Lebanese economy is also suffering from the impact of the war in neighboring Syria, which cut major trade routes and brought more than 1 million refugees into the country.
BLOOMBERG