PM Hariri was target of assassination plot days ago, report
Pan-Arab television channel al-Arabiya al-Hadath said on Saturday an assassination plot was foiled against Lebanese leader Saad al-Hariri in Beirut days ago, citing an unnamed source.
Lebanese officials could not immediately be reached for comment.
Hariri traveled to Saudi Arabia on Friday and announced his resignation as prime minister on Saturday in a speech condemning Riyadh's regional foes Iran and Hezbollah and saying he feared assassination.
"Those who planned to assassinate prime minister Hariri deactivated the observation towers while his motorcade was passing by," Arabiya cited the source as saying.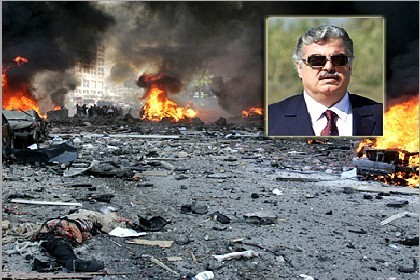 Announcing his shock resignation earlier in the day, Hariri said Lebanon is living "an atmosphere similar to the one that preceded the assassination of his father former PM Rafik Hariri."
"I have sensed covert plots to target my life," Hariri added.
The 47-year-old Sunni politician's resignation comes a day after he met at his office in downtown Beirut  Ayatollah Ali Khamanei's  senior adviser of  international affairs Ali Akbar Velayati, who is wanted in Argentina over  the 1994  deadly bombing of a Jewish center in Buenos Aires .  Argentina issued twice extradition warrants one in July last year  when he was visiting Malaysia and one in October last year when he was visiting Iraq.
Reuters