Stolen Dali painting seized in Lebanon. Three Syrians, one Lebanese arrested

Lebanese police revealed that they have recovered what is believed to be an original portrait by world-famous Spanish surrealist Salvador Dali, arrested four suspected thieves as they were displaying the painting in a bid to sell it.
In a statement Wednesday, Lebanese Internal Security Forces announced the artwork had been seized on October 13 following a large-scale investigation carried out by the country's judicial police unit dealing with international crime. The operation was conducted in line with "the fight against crimes of theft and trafficking antiquities," it said.
Four men, three Syrians and one Lebanese national, were detained during the raid. Police recovered what they believe to be "The Portrait of Mrs. James Reeves," painted by the iconic Spanish artist in 1954. The men were placed in custody.
The suspects "were working on the display of the painting" with an intention to sell it when the police swooped on them, the statement read.
No details have been given as to when the artwork went missing, with the authorities saying that it had been stolen from a neighboring country, a possible reference to Syria.
The canvas is "likely the original" and if its authenticity is verified, is estimated to be "worth millions of dollars."
It has not been revealed how the perpetrators managed to snatch the canvas measuring 147cm x 92 cm (57.87 "x 36.22") from its owner, who has not been identified either.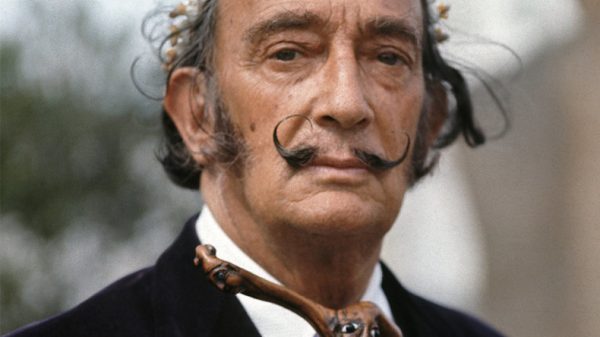 The portrait was purchased at Christie's auction house in London in 1997 and fetched £89,500 – a somewhat more modest sum than the estimate of the Lebanese authorities. After that it was kept in a private collection, according to the catalogue data on the Gala-Salvador Dali Foundation website.
The name of the eccentric artist has recently been making headlines, almost three decades after his death in 1989, after a woman, claiming to be his biological daughter, won a lawsuit to exhume his corpse for a paternity test. Pilar Abel Martínez alleged that her mother had an affair with the famous surrealist.
The results of the laboratory tests, however, ruled out the possibility of Martínez being any relation to the artist, and the court ordered her to pay the cost of the exhumation, estimated at about €7,000.
RT