China's president Xi warns Hong Kong that challenging Beijing is a 'red line'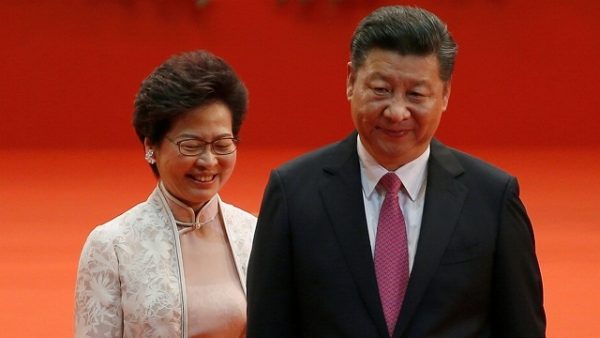 China's President Xi Jinping marked the 20th anniversary of Hong Kong's handover from British rule Saturday with a stern warning to the territory's people: You can have autonomy, but don't do anything that challenges the authority of the central government or undermines national sovereignty.
Under the terms of the 1997 handover, China promised to grant Hong Kong a high degree of autonomy for at least 50 years, but Xi said it was important to have a "correct understanding" of the relationship between one country and two systems.
"One country is like the roots of a tree," he told Hong Kong's elite after swearing in a new chief executive to govern the territory, Carrie Lam. "For a tree to grow and flourish, its roots must run deep and strong. The concept of one country, two systems was advanced first and foremost to realize and uphold national sovereignty."
Many people in Hong Kong accused China of violating the territory's autonomy in 2015 by seizing five publishers who were putting out gossipy books about the Chinese leadership and allegedly distributing them on the mainland.
They are also angry that Beijing intervened to disqualify newly elected pro-independence lawmakers who failed to correctly administer the oath of office last year. Many people are worried that China is increasingly determined to call the shots.
But Xi made it clear that challenges to Beijing's authority would not be allowed.
"Any attempt to endanger China's sovereignty and security, challenge the power of the central government and the authority of the Basic Law of the Hong Kong Special Administrative Region, or use Hong Kong for infiltration or sabotage activities against the mainland, is an act that crosses the red line and is absolutely impermissible," he said.
China's leader also said that the concept of one country, two systems was a great success, and should be implemented "unswervingly" and not be "bent or distorted."
While his words made it clear that sovereignty took precedence over autonomy, he said neither aspect should be neglected. "Only in this way will the ship of one country, two systems break the waves, sail steadily and last the distance," he said.
Yet many people here say Hong Kong's autonomy was again badly distorted in March, with Lam's election as chief executive. Although the former bureaucrat trailed well behind rival candidate John Tsang in opinion polls, she was chosen by a panel of 1,200 members of the territory's elite that was packed with pro-Beijing loyalists.
Although Tsang was also an establishment figure, political experts say Beijing seemed to want someone in the chief executive's chair who would not challenge its authority.
Xi did not shy away from raising two controversial demands that have previously brought Hongkongers out on the streets in the hundreds of thousands.
China's leader said the territory needed to improve its systems "to defend national security, sovereignty and development interests," as well as "enhance education and raise public awareness of the history and culture of the Chinese nation."
China's demand that the territory pass a national security law caused massive street protests 14 years ago, while plans to implement a program of "patriotic education" brought more people onto the streets in 2012 and helped politicize the territory's youth.
Both plans were subsequently shelved, but Lam has indicated she aims to them back on the table. But she also argues the time isn't right to satisfy a popular demand for greater democracy by allowing a future chief executive to be chosen by universal suffrage.
Thousands of Hongkongers are expected to take to the streets later Saturday in an annual march to demand greater democracy.
Martin Lee, Hong Kong's veteran pro-democracy political leader, said China was deliberately confusing patriotism with obedience.
"When they say you must love the country, what they mean is you must obey the Communist Party," he said. "We have no problem with the Communist Party as long as it adheres to the promises made to us."
Lee said China had not fulfilled its promise to grant Hong Kong greater democracy.
"They kept on postponing democracy," he said. "That's why young people are losing their patience."
On Saturday morning, a small group of pro-democracy protesters said they were attacked by hired thugs when they tried to stage a demonstration, and subsequently were briefly detained and beaten by police.