Berri is optimistic again about a deal on an electoral law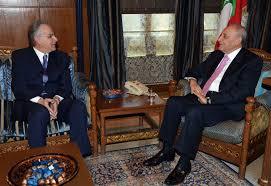 Lebanon Speaker Nabih Berri sounded optimistic after his meeting with MP George Adwan ,deputy leader of the Lebanese Forces, where discussions focused on setting up of the electoral districts based an LF initiative on on a new electoral law for the upcoming parliamentary elections, Lebanese media reported on Saturday.
"The atmospheres are positive . Some progress has been made, we hope that we get to the happy ending," Berri told al-Joumhouria daily.
Berri's meeting with Adwan in Ain el-Tineh on Friday lasted for over two hours after which the Speaker reflected optimism about the "near-agreement" on the thorny electoral file.
Berri told his visitors he had agreed on the LF proposal as for as the setting up of electoral districts is concerned , pointing out that he awaits feedback from the other political parties on the matter.
LF chief Samir Geagea's initiative calls for consensus on a law based on full proportional representation and should some disagreements linger over the law's restraints, they would be put to a cabinet vote.
This is the second time that Berri sounded optimistic about a possible breakthrough . On May 15 he sounded optimistic over a deal on a new electoral law that could be reached during "a very important meeting" that was supposed to be held that evening at his residence in Ain el Tinah.
"A very important meeting will be held this evening and perhaps it could lead us to a solution and an electoral law based on proportional representation, women's rights and the right of expats to vote, a law that shuns sectarianism and puts this country on the track of the future," Berri said via telephone conference, addressing a Berlin rally for AMAL Movement's cadres in Europe.
But the optimism of Speaker Berri was short lived and the "very important meeting " ended in a very big disappointment .
No deal was reached
FM Gebran Bassil skipped the meeting which indicated that President Aoun and Berri are not yet on the same page with regards to the electoral law. Only Adwan and PM Saad Hariri along with his aide Nadir Hariri went to Ain al Tinah.
The Lebanese politicians have been bickering for years over a new law to replace the current 1960 law and so far they failed , because laws translate into seats in the new parliament.