Egypt ready to support Lebanese army and security forces, says president Sisi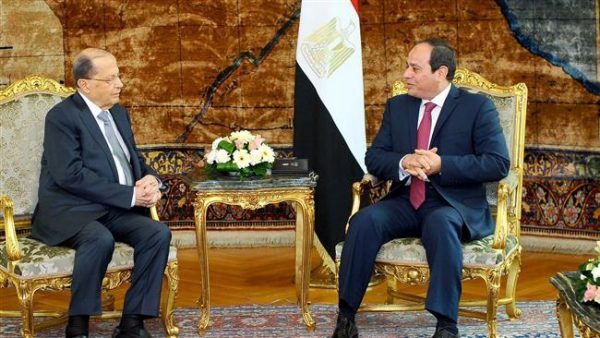 President Michel Aoun on Monday started his first visit to Cairo since his election in October and held talks with his Egyptian counterpart Abdel Fattah al-Sisi.
"Hopes of the role that Egypt could play are high. An Egypt of moderation and openness… could launch an Arab rescue initiative based on a strategy to fight terrorism," Aoun said at a joint press conference.
He said Egypt could "work on finding political solutions for the crises in the Arab world and especially Syria."
The two sides "agreed on the need to stand together against the dangers of terrorism," Sisi said, adding that Egypt was ready "to support the capabilities of Lebanon's army and its various security bodies."
Aoun, who invited al-Sisi to visit Lebanon, met later in the day with the leader of Egypt's Coptic Church, Pope Tawadros II, and also held talks with Grand Imam Ahmed al-Tayeb of al-Azhar, the highest institution of Sunni Islam.
On Tuesday, the president is scheduled to meet Ahmed Aboul Gheit, secretary general of the Cairo-based Arab League.
Aoun's last visit to Egypt was as a military officer, 55 years ago. He was elected president last  October after a 29-month vacuum in the country's top post.
On Tuesday, Aoun will visit Jordan at the invitation of Jordanian King Abdullah II.
The president is accompanied by a delegation comprised of Finance Minister Ali Hassan Khalil, Foreign Minister Jebran Bassil, Interior Minister Nouhad al-Mashnouq, Economy Minister Raed Khoury, State Minister for Presidency Affairs Pierre Raffoul, and General Security chief Maj. Gen. Abbas Ibrahim.
Aoun's first visit as president was  Saudi Arabia . He visited it  last month to patch up relations with Riyadh. From there he went to   Qatar.
A Lebanese official source said at the time that Saudi Arabia and Lebanon had agreed to hold talks on restoring a $4-billion military aid package that Riyadh froze last year.
Saudi Arabia, a fierce regional rival of Iran, froze the aid deal over what it said was Hezbollah's dominance in Lebanon.
AFP/YL