Lebanese film 'What About Tomorrow?' Crushes box office records In Lebanon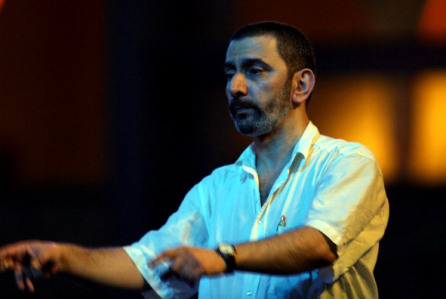 A new Lebanese film, What About Tomorrow?, which is made up of grainy footage of a 38-year-old play by legendary singer-writer Ziad Rahbani, is crushing box office records in the country. The film opened on Thursday January 21 and has already garnered 28,000 admissions in its first day. To put that into context, that's more than Star Wars: The Force Awakens did in its entire opening weekend. The film is now anticipated to become the highest grossing Lebanese film of all time. A lot of tickets sold were part of a new phenomenon in Lebanon where people buy out whole screens and invite their friends and family for a private showing on the day of release. 12,000 tickets were sold in pre-sales alone, an un-heard of number for a film in the country.
What makes this all the more remarkable is the film is not really a film at all, or even new for that matter. It is a collage of old 8mm footage of performances of Rahbani's play, also called What About Tomorrow?, that first opened in Beirut in 1978, three years into Lebanon's 15-year civil war. The footage was originally filmed by Rahbani's sister Layal at his request so that he could show it to the actors during rehearsals and change stage elements such as the lighting and costumes. There are scenes in the film version where the same character appears in different clothes for no apparent reason. "The audience don't care," says Hyam Saliby, the head of sales and acquisitions at distributor Italia Film. "Even though the quality of the image is not great, the audience are just in love with Ziad and this experience. The amazing thing is this footage was never even meant to be shown. It was only intended for personal use."
The then-22-year-old Rahbani, whose mother is Lebanon's greatest singer and icon Fairuz, wrote the play to speak to the country's internecine troubles but through his now famous sardonic, jet black humour. Set in a bar, with Rahbani himself playing bartender Zakaria, a series of comic interludes take place before a searing monologue for the need for greater social equality kicks in. That very same, almost four decades later, is bringing audiences to its feet. In a country burdened by a broken political system- Lebanon has not had a President for months because of political squabbling- a crisis in waste disposal and a million or so Syrian refugees in a country with a population of four million, Rahbani's play/film has caught the mood of a people in a way that no other film has come close to doing.
"We would hope it would make 250,000 admission," says Saliby. "It will almost certainly become the highest grossing Lebanese film of all time."
Deadline