Huge 7.8 earthquake rocks Turkey and Syria, kills 2400, felt in Lebanon, updates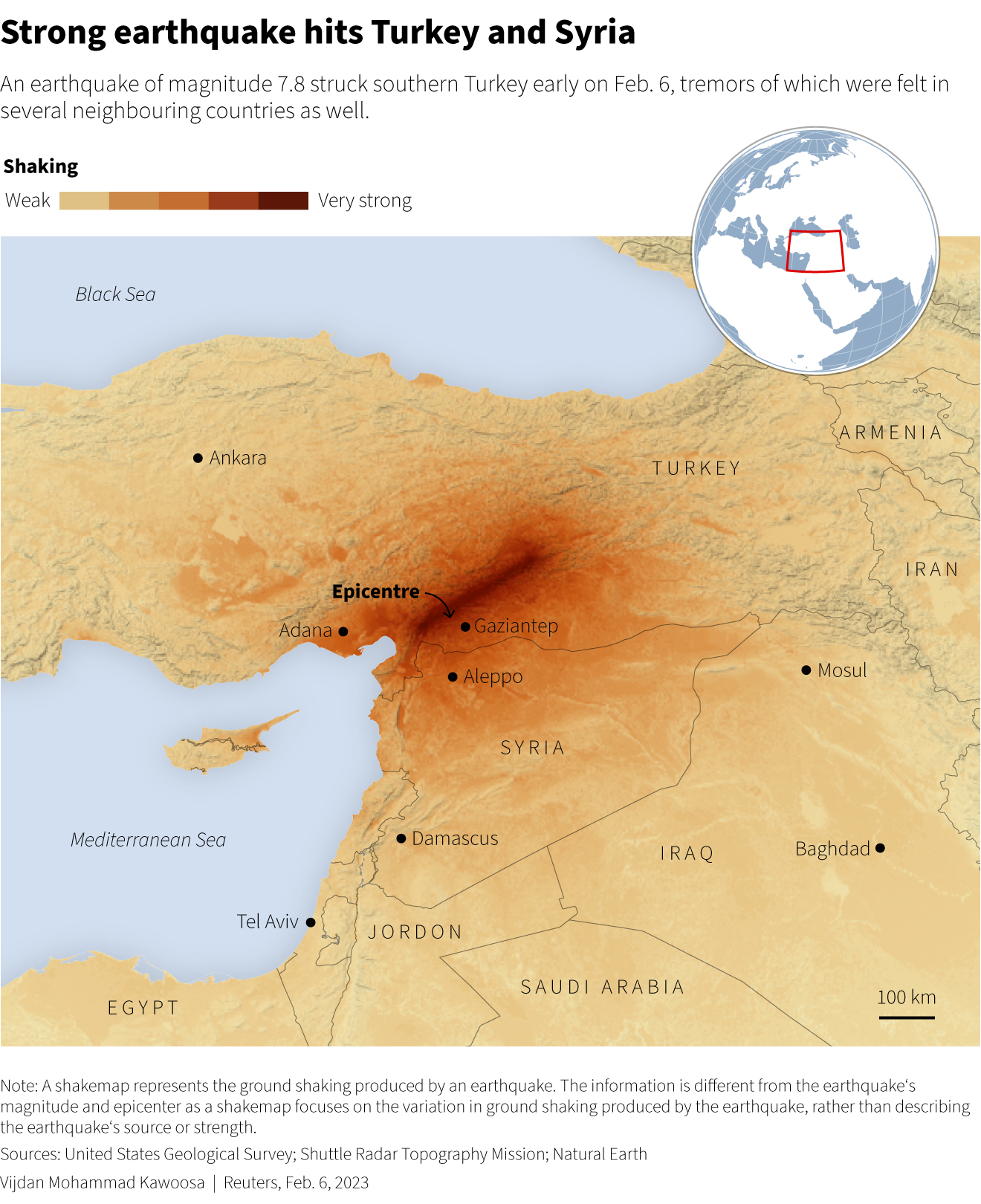 ADANA, Turkey/DAMASCUS, Feb 6 (Reuters) – A huge earthquake killed about 1,800 people and injured thousands more on Monday in central Turkey and northwest Syria, flattening apartment blocks and heaping more destruction on Syrian cities already devastated by years of war.
The magnitude 7.8 quake, which hit before sunrise in bitter winter weather, was the worst to strike Turkey this century. It was followed in the early afternoon by another large quake of magnitude 7.7.
It was not immediately clear how much damage had been done by the second quake, which like the first was felt across the region and endangered rescuers struggling to pull casualties from the rubble, often using their bare hands to remove masonry.
"We were shaken like a cradle. There were nine of us at home. Two sons of mine are still in the rubble, I'm waiting for them," said a woman with a broken arm and injuries to her face, speaking in an ambulance near the wreckage of a seven-storey block where she had lived in Diyarbakir in southeast Turkey.
Death toll crosses 2400
The powerful 7.8 magnitude earthquake rocked southeastern Turkey and northern Syria early Monday, killing more than 2,400 people and sending thousands of buildings crashing to the ground. The USGS has recorded data to indicate at least 30 major aftershocks so far.
Here's what we're following:
A large temblor with a magnitude of 7.5 hit southeastern Turkey about nine hours after the first earthquake. A TV news crew captured a video of the harrowing moment.
Cold and snowy conditions are hampering rescue efforts as workers are frantically searching for survivors.
The magnitude was roughly the equivalent of the 1999 quake, one of the deadliest quakes in history. That quake that took place in Izmit , Turkey killed more than 17,000 people.
The US Geological Survey said quake was centred about 33 kilometres (20 miles) from Gaziantep about 26 kilometres (16 miles) from the town of Nurdagi. It was centred 18 kilometres (11 miles) deep, according to the US Geological Survey. 
Why was this earthquake in Turkey and Syria so devastating?
The quake hit at depth of 11 miles (18 kilometers) and was centered in southern Turkey, near the northern border of Syria, according to the U.S. Geological Survey.
Many aftershocks have rocked the area since the initial quake. In the first 11 hours, the region had felt 13 significant aftershocks with a magnitude of at least 5, said Alex Hatem, a USGS research geologist.
Scientists are studying whether a magnitude 7.5 quake that hit nine hours after the main shock is an aftershock. Hatem said it appears to be the case.
"More aftershocks are certainly expected, given the size of the main shock," Hatem said. "We expect aftershocks to continue in the coming days, weeks and months."
What type of earthquake was this?
Researchers said the earthquake was a strike-slip quake, where two tectonic plates slide past each other horizontally, instead of moving up and down. This is known as a transform plate boundary. As the plates rub against each other, huge stresses can cause portions of the rock to break, resulting in earthquakes. Places where these breaks occur are called faults.
In this case, one block moved west while the other moved east — grinding past each other to create the quake, Hatem said.
The quake occurred in a seismically active area known as the East Anatolian fault zone, which has produced damaging earthquakes in the past.
Turkey had another major earthquake in January 2020 — a magnitude 6.7 that caused significant damage.
REUTERS/ News Agencies/