Arab & Lebanese Americans sending millions to Lebanon in direct aid to the people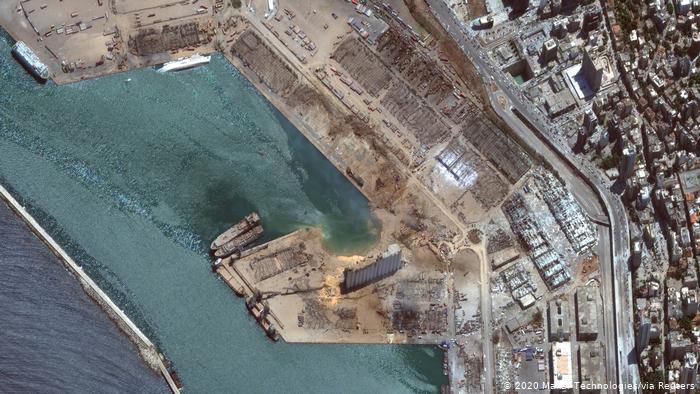 Saddened and shocked by an explosion that tore through Beirut, Arab Americans and others in metro Detroit are mobilizing to raise money and send equipment to help a city that faces one of its biggest crises in recent years.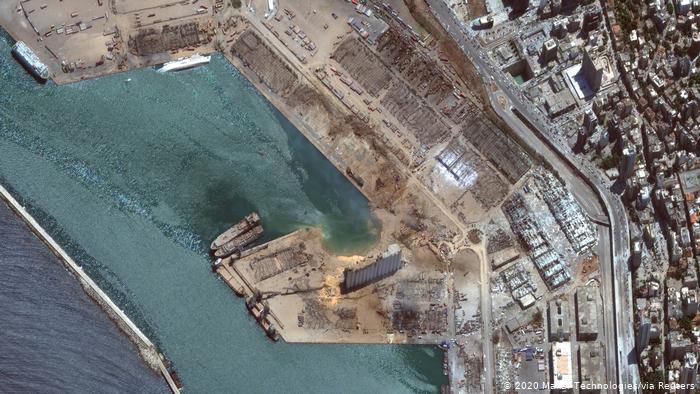 Michigan has a sizable Lebanese American population of about 57,000 people and others with roots in the Middle East who have ties to Beirut, where a blast in a port area last week killed more than 170 and injured over 6,000 with hundreds of thousands now homeless.
In Southfield at World Medical Relief, a $500,000 container of medical supplies — wheelchairs, crutches, surgical equipment among them — was packed this week and will be shipping soon to Lebanon. It's one of several containers of supplies worth a total of $5 to $6 million the international charity plans to send in coming weeks, said World Medical Relief President and CEO George Samson.
In Clinton Township, at St. Sharbel Maronite Catholic Church, the largely Lebanese American congregation has raised $14,000 as of Wednesday for the charity Caritas, said its pastor, Chorbishop Alfred Badawi.
In Dearborn Heights, at the Islamic Institute of America, the mosque's congregation has raised more than $110,000 for victims in Lebanon, said Imam Hassan Al-Qazwini.
And in Dearborn, the Arab American social services group ACCESS said a national group it created, the Center for Arab American Philanthrophy will match 100% of donations and an additional 50 cents for every dollar to the Lebanese Red Cross. 
There are other efforts across the region and also individuals helping their own family members and loved ones affected by the explosion that has further crippled Lebanon's already struggling economy and political system. Vigils have been held in metro Detroit for the victims, including in Birmingham and one planned for Thursday evening at St. Sharbel.
In addition to local efforts, the U.S. government, through U.S. Agency for International Development (USAID) said it will give $15 million in humanitarian assistance.
"The people of Lebanon are suffering," said pastor Badawi of St. Sharbel in Clinton Township. "People have no homes, they've been sheltering and sleeping in cars, some are in the streets, families left scrambling for food. The nation was already grappling with a severe, collapsing economy, and a government in shambles."
Speaking during a fundraising event broadcast online last week, Imam Al-Qazwini told the congregation: "We need to show that our community is generous, is concerned, and cares about people everywhere. … Do not let this community down. They are expecting us to help."
Al-Qazwini said metro Detroit is known for its large Arab American and Muslim population that helps people in need.
"They're expecting us to help," he said. "Let's be up to the challenge, let's be up to our reputation, and let's step up the plate and give."
The mosque is accepting donations for Lebanon through Aug 21.
Majd Faraj, a native of Lebanon who's a second-year medical student at Oakland University's William Beaumont School of Medicine, had already mobilized before the explosion to help Lebanon, given its economic problems and medical needs. He was working with World Medical Relief and last month he created a GoFundMe page to help raise money for supplies.
After the explosion, the donations poured in, with more than $71,000 raised so far.
"It's incredible to see how many want to help," he said.
When Faraj, 23, heard about the blast last week, "I remember screaming" as I saw the video footage, he said. "I called my parents in Beirut. It was one of the worst moments I felt before realizing they were safe."
Faraj said that the supplies they are donating with the help of World Medical Relief are going to Rafic Hariri University Hospital in Beirut.
One challenge is that because Lebanon is divided along sectarian and political lines, some are reluctant to donate money through the government or certain groups.
"We don't trust the Lebanese government," said Chorbishop Alfred Badawi of St. Sharbel in Clinton Township. "We ask countries to send aid to organizations, not to the government. It's a very corrupt government … they are under Hezbollah."Get the Coronavirus Watch newsletter in your inbox.
Updates on how the coronavirus is affecting your community and the nationDelivery: VariesYour Email
Majed Moughni, a Dearborn attorney of Lebanese descent, said a local restaurant has been donating proceeds to help victims and some set up makeshift lemonade stands to raise money.
"It's heartbreaking to watch what was once the 'Paris of the Middle East' be disseminated before our very eyes," Moughni said. "The people need to retake control of their government and rid it of all corruptions."
Michigan has about 57,000 residents with roots in Lebanon, according to 2018 Census data.
The Lebanese American Christian population historically settled on Detroit's east side, with many moving later to the Grosse Pointes and Macomb County. There are four Lebanese Catholic Maronite churches in southeastern Michigan, in Detroit, Clinton Township, Livonia, and Flint.
The Lebanese American Shia population is more settled in Dearborn and Dearborn Heights, where they have established mosques and have members on the city councils. A former resident of Dearborn, Nabih Berri, is now the speaker of the parliament in Lebanon, an influential power broker. The region also has a number of Lebanese American Sunnis.
"Michigan is home to the largest Lebanese community in the US, and Beirut's devastating explosion has left many scared for their loved ones," Governor Gretchen Whitmer wrote on Twitter. "I stand with my friends who are calling for relief and assistance to be quickly deployed to the people of Lebanon."
Some in metro Detroit had friends and family members affected by the explosion.
Chorbishiop Badawi's niece is a nurse at St. George Hospital in Beirut. She survived the blast, but four nurses on her floor were killed, he said. The hospital is now closed. A Troy resident, Israa Al Seblani, was captured in a viral video taken during the blast during a wedding video shoot, reported WXYZ-TV. And the home of an Oakland University professor was damaged by the explosion, wrote a university official. https://tpc.googlesyndication.com/safeframe/1-0-37/html/container.html
Wally Jadan, a board member of World Medical Relief and the CEO of MEA TV, a Middle Eastern media outlet based in Troy, said many in Michigan "are really heartbroken."
On Saturday, a group of about 40 volunteers at World Medical Relief broke down crying when they heard the Lebanese national anthem being played, Jadan said.
"It's not just people from Lebanon, the whole Middle Eastern community is affected," Jadan said. "Every Arab country wanted to be like Lebanon, and see what happened to Lebanon now after all the suffering of the past five to six years."
Despite the challenges and divisions, Lebanese Americans said they hope this traumatic event can be a catalyst for change and unity.
"There's a lot of emotions," said Faraj, the medical student at Oakland University helping organize relief efforts. "The explosion was extremely avoidable. This wasn't like a natural disaster. It was out of negligence, lack of proper leadership, that's where the real anger comes from. … There is an element of despair we saw in the community that we're trying to change. But this thing really nudged everybody to see a change is coming. People are dropping off medical supplies, people are texting me right and left who want to help and send supplies."
How to help victims from the Beirut explosion
There are several ways to help those affected by the explosion in the capital.
Lebanon Red Cross
The Lebanon Red Cross is accepting online and offline donations. The national society was established on July 9, 1945, according to its website, and is a nonprofit organization as well as an auxiliary team to the medical personnel of the Lebanese Army.
It is part of the International Red Cross and a member of the International Federation of the Red Cross and Red Crescent Societies. It is also a founding member of the Secretariat General of the Organization of the Arab Red Crescent and Red Cross Societies.
The organization is led and run by volunteers who look to provide relief to victims of natural and human disasters. It runs services such as emergency medical treatment, blood transfusion and more. As it is not a governmental association, most of the assistance provided by the organization depends on donations.
To donate to the Lebanon Red Cross the best way is to go to its website and pay with a credit card , try not to go to any Lebanese bank to make a transfer . they will steal the money like they have been doing for the past year
Save the Children
This nonprofit focuses on providing services to children in developing countries or during emergencies and disasters. Founded in London in 1919 by Eglantyne Jebb, the organization delivers emergency relief to children and their families to help them recover from loss, restore their lives and build resilience.
Services provided by Save the Children include help with healthcare, education, policy and on-the-ground aid during a crisis. It has most recently been assisting in Yemen and across the world in communities hit by the coronavirus pandemic.
The company considers itself to be the first agency on the ground when disaster strikes and Jad Sakr, Save the Children's country director in Lebanon, says that Save the Children is ready to assist where needed in Beirut.
"Our child protection teams are ready to support the government's efforts, which will almost certainly go on for several days to come. It is vital that children and their families get access to the services they urgently need, including medical care and physical and emotional protection."
Donations to Save The Children via its Lebanon Crisis Fund.
Union of Relief and Development Associations
A nonprofit based in Lebanon, the Union of Relief and Development Associations(URDA) has also launched an emergency appeal to support people in Lebanon on GlobalGiving.org. People can donate once or donate monthly.
The organization helps disadvantaged individuals in Lebanon, helping in cities and far into the mountains and valleys of the country. It supports vulnerable communities to become empowered, psychosocially supported and educated while making sure women and children are legally protected.
URDA provides humanitarian services such as shelter, healthcare, education, protection, relief and more during emergency situations.
According to its fundraising page, the organization is looking to support with medical supplies, food parcels, medicine and medical aid for clinics and hospitals that need assistance.
Impact Lebanon
This non-profit organization is a social incubator for the Lebanese community. Helping people mobilize more effectively, its community shares knowledge, resources and expertise as well as helping make activism accessible, impactful and sustainable. This ranges from providing healthcare to education to those who need it.
Impact Lebanon is trying to raise £5 million ($6.556 million) to provide disaster relief after the explosion in the capital. According to its website, it is coordinating with other non-government organizations who need assistance and will be providing details of how funds will be spent as soon as possible.
To donate to this cause, visit Impact Lebanon's JustGiving page.
Oxfam
A global organization working to end the injustice of poverty, Oxfam had been working in Beirut prior to the explosion and told Newsweek it is "extremely concerned" with helping local communities pulling together and recover from the crisis.
Oxfam has been working to provide water and sanitation for refugees and those in poverty in the country, as well as emergency cash assistance for legal protection and supporting small businesses. It is active in North Lebanon, the Bekaa Vallet, South Lebanon and in Palestinian camps and gatherings.
Oxfam Lebanon policy lead Bachir Ayoub provided a statement to Newsweek explaining the explosions have created a "crisis on crises" situation: "Lebanon was already struggling to cope—the economy has been in a tailspin, the local currency has lost approximately 80 percent of its value and the last month has seen a dramatic increase in coronavirus cases with hospitals already under pressure.
It is accepting donations for its work on the ground via its Lebanon Relief & Recovery Fund.
CARE
This nonprofit is an international aid organization that provides assistance to people in need and distributes emergency supplies. Speaking to Newsweek, the company confirmed it was accepting donations to help provide psycho-social support and psycho-social first aid with an emphasis on managing PTSD and preventing gender-based violence.
If you would like to donate to CARE, you can via its Disaster Relief fund.
Catholic Relief Services
With its partner Caritas and 14 other faith-based organizations, this nonprofit is working to meet the immediate needs of those impacted by the explosion.
This aid includes offering hot meals and water at three locations throughout the capital, as well as healthcare centers and mobile medical units opening and ready to treat patients. It is also providing mental health support via its own unit.
Catholic Relief Services (CRS) is the official international humanitarian agency of the Catholic community in the U.S. and works to alleviate suffering and provide assistance to people in need in more than 100 countries. Its relief and development work is accomplished through programs of emergency response, HIV, health, agriculture, education, microfinance and peacebuilding.
Donations for the Catholic Church's response to the disaster can be securely made here.
Islamic Relief USA
This nonprofit provides assistance to whoever needs it most, regardless of race, religion or gender. It works across the U.S. and internationally, looking to help those in crisis.
The nonprofit is working to build a sustainable supply chain for emergency aid in the capital and asking for support to help sustain the many projects that already help uplift people in Lebanon. It has been working in the country since 2006 in response to a humanitarian crisis caused by war. It is behind reconstruction efforts like hospital rehabilitation and water facility repairs.
If you would like to donate to this nonprofit to help Beirut, you can do so via its website.
Humanity and Inclusion (formerly Handicap International)
This non-government organization has been working in the country since 1992, providing physical therapists and psychosocial experts during critical responses.
Secure gifts can be made to Humanity & Inclusion on this page and the company is accepting gifts via PayPal.
How to donate blood and access shelter in Lebanon
Due to the vast amount of casualties on the ground and displaced families in Beirut, there are local resources that people can access if they want to help or access services.
Daleel Thawra is a directory of initiatives, outlets and resources in Lebanon to help people access what they need during times of difficulty. At the moment, it is listing hospitals that urgently need blood donations, including the blood type and the location it's needed.
It also has a map of shelters with available beds for those who have lost their homes following the explosion.
A further list of resources has been compiled by Washington, D.C resident Ramzy Al-Amine. His twitter handle is @ramz_53 and he also supports causes such as Free Palestine, the Yemen Crisis and Black Lives Matter.
The list includes fundraisers to donate to for those needing it in Beirut, links to help locate people who are missing after the explosion and lists of shelters available to help people who have been made homeless.Updated on August 7, 2020, at 6:45 a.m. ET to include further disaster relief funds asking for donations as well as an updated link to Save the Children's Lebanon Crisis Relief fund.
Detroit Free Press