Infant sick as Lebanon's coronavirus cases surge to 'new high'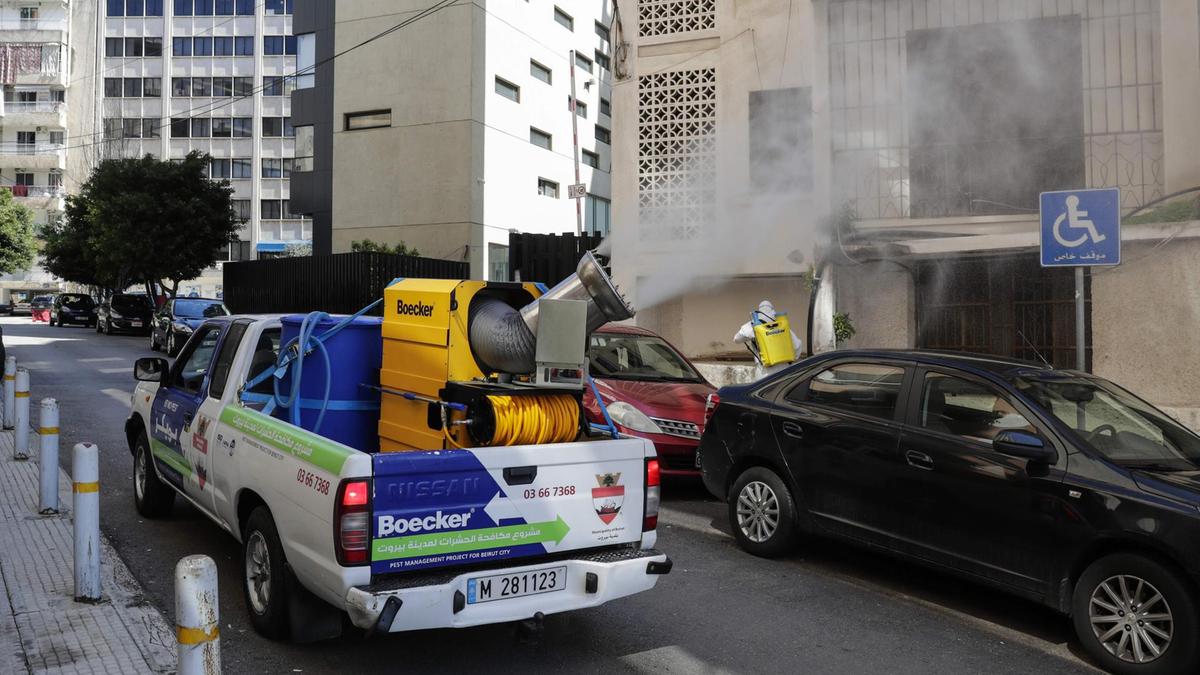 Lebanon's coronavirus outbreak has "reached a new high," the head of the country's main hospital treating the patients said on Sunday as army helicopters circled Beirut calling broadcasting calls for people to stay home.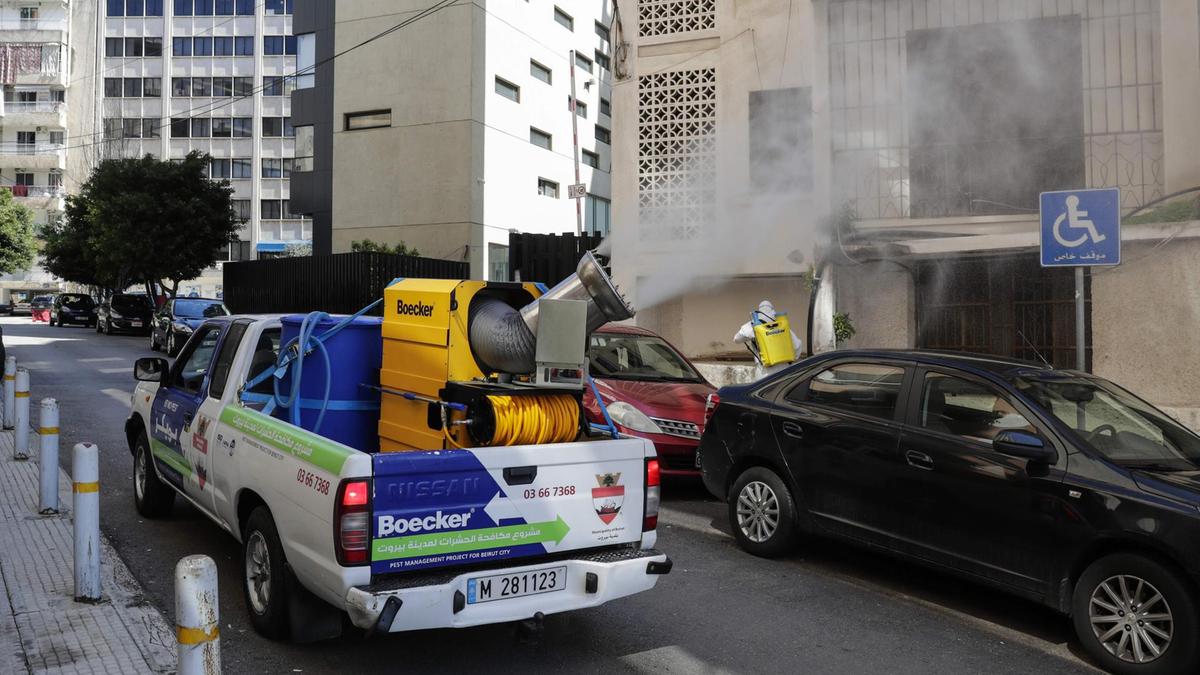 Firass Abiad, the head of Lebanon's Rafic Hariri University Hospital, said that new cases on Saturday included a 2-year old infant, "a pregnant patient who underwent a C-section and 6 transfers from other hospitals."
On Saturday evening, Prime Minister Hassan Diab said that the number of cases had risen to 230 despite a call on March 15 for everyone to stay at home and on Friday the number of cases rose to 391 .
Cases have soared in the region of Jbeil, north of the capital. The army issued a statement last Sunday morning saying that it would increase patrols and that offenders could face up to 6 months in prison if caught on the streets without good reason.
Mr Abiad said that Rafic Hariri Hospital, which is the main hospital for coronavirus treatment, was currently functioning at 70 per cent occupancy rate and was testing up to 200 people a day.
He announced that the hospital would increase bed capacity by 50 per cent and double testing capacity by March 31.
Officials fear that Lebanon could run out of ventilators if cases increase dramatically.
On Friday, Health Minister Hamad Hassan attempted to reassure the public by saying that there were 1,185 ventilators in the country of around 4.5 million people. "We need around 500 to 600 at the current stage," he said.
Months before the pandemic struck Lebanon, the local health sector was already suffering from the country's worst economic crisis in its history and struggling hospitals were finding it hard to import medical equipment.
THE NATIONAL
Here is an update on Coronavirus cases and deaths around the world as reported by Worldometers.com

Confirmed Cases and Deaths by Country, Territory, or Conveyance
The coronavirus COVID-19 is affecting 199 countries and territories around the world and 1 international conveyance (the Diamond Princess cruise ship harbored in Yokohama, Japan). The day is reset after midnight GMT+0.

Report coronavirus cases
Search:
Country,
Other
Total
Cases
New
Cases
Total
Deaths
New
Deaths
Total
Recovered
Active
Cases
Serious,
Critical
Tot Cases/
1M pop
Tot Deaths/
1M pop
USA
101,159
+15,724
1,559
+264
2,465
97,135
2,463
306
5
Italy
86,498
+5,909
9,134
+919
10,950
66,414
3,732
1,431
151
China
81,340
3,292
74,588
3,460
1,034
57
2
Spain
64,285
+6,499
4,940
+575
9,357
49,988
4,165
1,375
106
Germany
50,871
+6,933
342
+75
6,658
43,871
23
607
4
France
32,964
+3,809
1,995
+299
5,700
25,269
3,787
505
31
Iran
32,332
+2,926
2,378
+144
11,133
18,821
2,893
385
28
UK
14,543
+2,885
759
+181
135
13,649
163
214
11
Switzerland
12,928
+1,117
231
+39
1,530
11,167
203
1,494
27
S. Korea
9,332
+91
139
+8
4,528
4,665
59
182
3
Netherlands
8,603
+1,172
546
+112
3
8,054
761
502
32
Austria
7,657
+748
58
+9
225
7,374
128
850
6
Belgium
7,284
+1,049
289
+69
858
6,137
690
628
25
Turkey
5,698
+2,069
92
+17
42
5,564
241
68
1
Canada
4,633
+590
53
+14
258
4,322
120
123
1
Portugal
4,268
+724
76
+16
43
4,149
71
419
7
Norway
3,755
+383
19
+5
6
3,730
70
693
4
Brazil
3,417
+432
92
+15
6
3,319
296
16
0.4
Australia
3,180
+130
13
170
2,997
23
125
0.5
Sweden
3,069
+229
105
+28
16
2,948
214
304
10
Israel
3,035
+342
12
+4
79
2,944
49
351
1
Czechia
2,279
+354
9
11
2,259
34
213
0.8
Malaysia
2,161
+130
26
+3
259
1,876
54
67
0.8
Ireland
2,121
+302
22
+3
5
2,094
47
430
4
Denmark
2,046
+169
52
+11
1
1,993
109
353
9
Chile
1,610
+304
5
+1
43
1,562
7
84
0.3
Luxembourg
1,605
+152
15
+6
40
1,550
25
2,564
24
Ecuador
1,595
+192
36
+2
3
1,556
58
90
2
Japan
1,468
+81
49
+2
372
1,047
56
12
0.4
Poland
1,389
+168
16
7
1,366
3
37
0.4
Pakistan
1,331
+130
10
+1
23
1,298
7
6
0.05
Romania
1,292
+263
26
+3
115
1,151
32
67
1
South Africa
1,170
+243
1
+1
31
1,138
7
20
0.02
Thailand
1,136
+91
5
+1
97
1,034
11
16
0.07
Saudi Arabia
1,104
+92
3
35
1,066
6
32
0.09
Indonesia
1,046
+153
87
+9
46
913
4
0.3
Finland
1,041
+83
7
+2
10
1,024
32
188
1
Russia
1,036
+196
4
+1
45
987
8
7
0.03
Greece
966
+74
28
+1
52
886
66
93
3
Iceland
890
+88
2
97
791
18
2,608
6
India
887
+160
20
73
794
0.6
0.01
Philippines
803
+96
54
+9
31
718
1
7
0.5
Singapore
732
+49
2
183
547
17
125
0.3
Diamond Princess
712
10
597
105
15
Panama
674
9
2
663
20
156
2
Peru
635
+55
9
16
610
14
19
0.3
Slovenia
632
+70
9
+3
10
613
14
304
4
Argentina
589
13
+1
72
504
13
0.3
Croatia
586
+91
3
37
546
14
143
0.7
Mexico
585
+110
8
+2
4
573
1
5
0.06
Dominican Republic
581
+93
20
+10
3
558
54
2
Estonia
575
+37
1
11
563
7
433
0.8
Qatar
562
+13
43
519
6
195
Colombia
539
+48
6
10
523
11
0.1
Egypt
536
+41
30
+6
116
390
5
0.3
Serbia
528
+71
8
+1
42
478
25
60
0.9
Hong Kong
518
+64
4
111
403
5
69
0.5
Bahrain
466
+8
4
227
235
1
274
2
Iraq
458
+76
40
+4
122
296
11
1.0
Algeria
409
+42
26
+1
29
354
9
0.6
UAE
405
+72
2
52
351
2
41
0.2
Lebanon
391
+23
8
+2
27
356
3
57
1
New Zealand
368
37
331
1
76
Lithuania
358
+59
5
+1
1
352
2
132
2
Morocco
345
+70
23
+12
11
311
1
9
0.6
Armenia
329
+39
1
28
300
6
111
0.3
Ukraine
310
+114
5
5
300
7
0.1
Hungary
300
+39
10
34
256
6
31
1
Bulgaria
293
+29
3
9
281
8
42
0.4
Latvia
280
+36
1
279
148
Slovakia
269
+43
2
267
1
49
Andorra
267
+43
3
1
263
11
3,456
39
Taiwan
267
+15
2
30
235
11
0.08
Costa Rica
263
+32
2
3
258
5
52
0.4
Uruguay
238
238
3
69
Jordan
235
+23
1
+1
18
216
23
0.10
Bosnia and Herzegovina
232
+41
4
+1
5
223
1
71
1
Tunisia
227
+30
6
+1
2
219
10
19
0.5
Kuwait
225
+17
57
168
11
53
San Marino
223
+15
21
4
198
12
6,572
619
North Macedonia
219
+18
3
3
213
1
105
1
Moldova
199
+22
2
+1
2
195
33
49
0.5
Albania
186
+12
8
+2
31
147
3
65
3
Burkina Faso
180
+28
9
+2
12
159
9
0.4
Azerbaijan
165
+43
3
15
147
6
16
0.3
Vietnam
163
+10
20
143
3
2
Cyprus
162
+16
5
+2
15
142
3
134
4
Kazakhstan
150
+37
1
3
146
8
0.05
Réunion
145
+10
1
144
162
Faeroe Islands
144
+4
54
90
2
2,947
Malta
139
+5
2
137
1
315
Ghana
137
+5
4
2
131
1
4
0.1
Oman
131
+22
23
108
26
Senegal
119
+14
11
108
7
Brunei
115
+1
11
104
1
263
Afghanistan
110
+16
4
2
104
3
0.1
Venezuela
107
1
31
75
2
4
0.04
Sri Lanka
106
7
99
5
5
Ivory Coast
101
+5
3
98
4
Cambodia
99
+1
11
88
1
6
Mauritius
94
+13
2
92
1
74
2
Belarus
94
+8
32
62
2
10
Cameroon
91
+16
2
+1
2
87
3
0.08
Palestine
91
+5
1
17
73
18
0.2
Channel Islands
88
+22
1
87
506
6
Uzbekistan
88
+13
1
+1
5
82
8
3
0.03
Georgia
83
+4
14
69
1
21
Montenegro
82
+13
1
81
1
131
2
Martinique
81
1
80
12
216
3
Cuba
80
+13
2
4
74
2
7
0.2
Guadeloupe
73
1
72
4
182
2
Nigeria
70
+5
1
3
66
0.3
0.00
Honduras
68
+1
1
67
7
0.1
Trinidad and Tobago
66
+1
2
+1
1
63
47
1
Bolivia
61
61
5
Kyrgyzstan
58
+14
58
9
Liechtenstein
56
56
1,469
Gibraltar
55
+20
14
41
1,632
Rwanda
54
+4
54
4
Paraguay
52
+11
3
1
48
1
7
0.4
DRC
51
3
2
46
0.6
0.03
Mayotte
50
+14
50
183
Bangladesh
48
+4
5
11
32
1
0.3
0.03
Monaco
42
+9
1
41
1,070
Macao
34
+1
10
24
52
Kenya
31
1
1
29
2
0.6
0.02
French Polynesia
30
30
107
Isle of Man
29
+3
29
341
Guatemala
28
+3
1
4
23
1
2
0.06
Aruba
28
1
27
262
French Guiana
28
6
22
94
Jamaica
26
1
2
23
9
0.3
Madagascar
26
+3
26
0.9
Togo
25
+1
1
24
3
Barbados
24
24
84
Uganda
23
+9
23
0.5
Zambia
22
+6
22
1
Bermuda
17
+2
2
15
273
Ethiopia
16
+4
16
0.1
Maldives
16
+3
9
7
30
New Caledonia
15
+1
15
53
El Salvador
13
13
2
Tanzania
13
1
12
0.2
Djibouti
12
+1
12
12
Equatorial Guinea
12
12
9
Dominica
11
11
153
Mali
11
+7
11
0.5
Mongolia
11
11
3
Saint Martin
11
11
284
Niger
10
1
9
0.4
0.04
Greenland
10
+4
2
8
176
Bahamas
9
1
8
23
Eswatini
9
+3
9
8
Cayman Islands
8
1
7
122
15
Curaçao
8
+1
1
2
5
49
6
Guinea
8
+4
8
0.6
Haiti
8
8
0.7
Myanmar
8
+3
8
0.1
Namibia
8
2
6
3
Suriname
8
8
14
Gabon
7
1
6
3
0.4
Antigua and Barbuda
7
7
71
Grenada
7
7
62
Mozambique
7
7
0.2
Seychelles
7
7
71
Benin
6
6
0.5
Eritrea
6
6
2
Laos
6
6
0.8
Cabo Verde
5
1
4
9
2
Guyana
5
1
4
6
1
Zimbabwe
5
+2
1
4
0.3
0.07
Fiji
5
5
6
Montserrat
5
5
1,002
St. Barth
5
+2
5
506
Syria
5
5
0.3
Nepal
4
+1
1
3
0.1
Angola
4
4
0.1
Congo
4
4
0.7
Vatican City
4
4
4,994
Gambia
3
1
2
1
0.4
Sudan
3
1
2
0.07
0.02
Bhutan
3
+1
3
4
CAR
3
3
0.6
Chad
3
3
0.2
Liberia
3
3
0.6
Mauritania
3
3
0.6
Saint Lucia
3
1
2
16
Sint Maarten
3
3
70
Somalia
3
+1
3
0.2
Nicaragua
2
1
+1
1
0.3
0.2
Anguilla
2
2
133
Belize
2
2
5
British Virgin Islands
2
2
66
Guinea-Bissau
2
2
1
Saint Kitts and Nevis
2
2
38
Turks and Caicos
2
2
52
Libya
1
1
0.1
Papua New Guinea
1
1
0.1
St. Vincent Grenadines
1
1
9
Timor-Leste
1
1
0.8
Total:
591,280
59,415
26,979
2,906
132,520
431,781
22,086
75.9
3.5