Netanyahu tells Putin Israel will continue to strike against Iran in Syria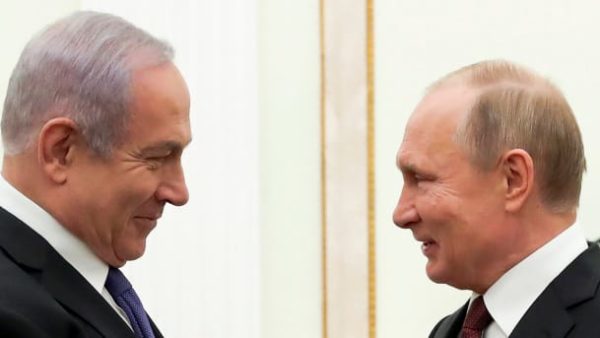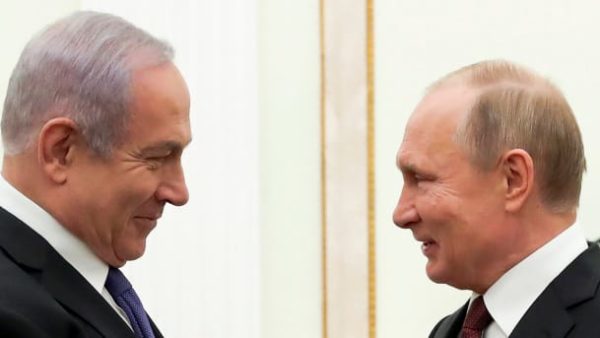 By Oliver Carroll
When you need a little help, you turn to your friends. But when your friend is Vladimir Putin, you'd better also have something else up your sleeve.
Benjamin Netanyahu arrived in Moscow on Wednesday for a long-awaited audience with an old ally in the Kremlin. The trip came amid mounting problems back home — a corruption scandal and re-election worries —that had even conspired to decide to delay the original date of the visit by a week.
Mr Netanyahu needed the meeting to go well, to reaffirm his campaign message as Israel's only world player — and Moscow knew it too.
Few political double-acts are as enduring as Vova and Bibi. The two men — disruptive, bombastic, alfa-male — share an easy alliance, based as much on personal chemistry as shared history and geopolitics. Today was the 14th time Mr Putin and Mr Netanyahu had met in the last decade alone. That is a record in Israeli-Russian history – and a record for any non-post-Soviet leader inside Putin's Kremlin.
But the immediate backdrop to Wednesday's meeting mirrored the frost on the ground as the Israelis touched town early morning at Moscow's Vnukovo-2 airport. It was the first time Mr Netanyahu had been granted a sit-down meeting with Mr Putin since a
Russian spy plane was downed over Syria
in September. it was a tragedy that cost 15 Russian lives and that an emotional Kremlin blamed entirely on Israel.
Added to that were continued tensions about the role of Iran in Syria amid the contradictions of Russian foreign policy, which tries to ally with everyone in the region.
Mr Netanyahu referred to those tensions in his opening pitch in the Kremlin. Iran and its proxies posed the greatest threat to regional security, he said: "We are determined to continue our aggressive activity against Iran, which calls for our destruction, and against its attempts to establish itself militarily in Syria."
But the Israeli leader also understood he needed something to break the ice, and get the relationship back on track. So he turned to obvious sweet spots. Close cooperation with the Russian military was what ensured security in the Middle East, he said. Mr Putin, who had up to this point listened with a stone face, brow raised, nodded his head.
Then, Mr Netanyahu went further. In the near future, he said, a new memorial to the victims of the Siege of Leningrad would be inaugurated in Jerusalem. Perhaps Mr President would be willing to officiate at its opening?
As far as state invitations went, it could hardly have been more personal. Mr Putin might have been born six years after the 872-day siege of his home town ended, but he lost a brother he never knew to to that grim page of Russian history.
His entire childhood, as his city rebuilt itself, was spent in the shadow of Leningrad's Siege.
Mr Putin switched from poker face to a smile.
"Thank you, I will come," he said. "The memory of those who died in the Second World War — of the Jews and of those in Leningrad — is sacred."
 It was a good start for Mr Netanyahu, but whether it was enough to translate into negotiation success on Iran was another thing.
Before leaving for Moscow, the Israeli premier said he aimed to use the meeting to  "prevent Iranian entrenchment in Syria." The presence of Iranian forces close to Golan on the Israeli border — in apparent contravention of a Russian-brokered deal to withdraw the forces to at least 80km (50 miles) — were of particular concern, he said.
According to Jonathan Spyer, Research Fellow at the Jerusalem Institute for Strategy and Security, few issues are as fundamental to Israel as the question of containing Iran. It was an issue that commanded support across the entire political spectrum from left to right, he added.
But Israel also believed that it has a shared interest in supporting Moscow as the regional power broker.
"Israel needs Russia to remain on the ground, as an arbiter between Turks, [Syrian President Bashar] Assad and Iran," he said. "Russia also needs to accommodate Israel to remain that successful mediator. Up until now that message seems to have been heard."
But the Kremlin's careful balancing of its regional alliances meant it was unlikely Jerusalem would be celebrating any major new concessions.
The Independent understands the Kremlin feels that it has already done enough to accommodate Israeli concerns — and in particular on the border deal.
"Moscow knows Netanyahu is bringing a list of Iranian and Hezbollah targets, and the sides will likely agree to coordinate, but that is about it," said Yuri Barmin, an expert at the Russian International Affairs Council.
Russia has "already reached its limits" on pressuring Iran, agrees Vladimir Frolov, a security expert and former Kremlin adviser.
"We are at a point where the Iranians could tell us where to go and begin moving around Syria the way they please," he said. "The best Israel can hope for is a deconfliction policy where Russians don't shoot down Israeli planes if they avoid Russian assets and personnel.
"The rest is God-knows-what-he-is-doing kind of thing."
Bribery charges
Bad news awaits Netanyahu. Israeli TV reports say Attorney General Avichai  will announce Thursday  plans to indict him.
His intention is to charge the Prime Minister Benjamin  with criminal offenses in all three cases against him, including bribery in the Bezeq corruption probe, Hebrew-language media reported Wednesday.
Netanyahu, reacting to reports on Israel's main TV broadcasts, called the apparent plans to charge him with bribery "absurd" and insisted that the prosecution's "house of cards will soon collapse."
According to the TV reports, Mandelblit has decided to charge the prime minister with bribery in only one case, and the lesser charge of breach of trust in two others.
If so, the announcement would mark the first time in Israel's history that a serving prime minister has been told he faces criminal charges, pending a hearing.
The Independent/YL