Lebanese foreign ministry: will stand by Carlos Ghosn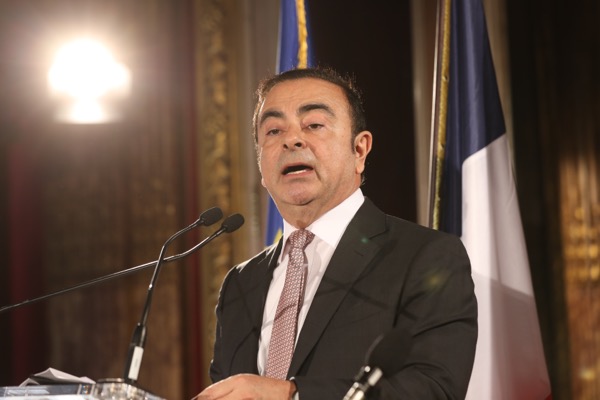 Lebanon's foreign ministry said on Tuesday it would stand by Nissan and Renault boss Carlos Ghosn, who is of Lebanese descent and holds Lebanese citizenship, a day after his arrest in Japan on financial misconduct allegations.
Ghosn, one of the best-known leaders in the car industry, was arrested after Nissan Motor Co said he had engaged in wrongdoing, including personal use of company money and under-reporting how much he was earning for years. The Japanese carmaker plans to remove him as chairman this week.
France moved on Tuesday to oust Ghosn from the helm of Renault but sought to defend the carmaker's alliance with Nissan, which has been rocked by the scandal..
Lebanon's caretaker Foreign Minister Gebran Bassil has asked the ambassador in Tokyo to meet with Ghosn and follow up on the case, the ministry said in a statement.
"Carlos Ghosn is a Lebanese citizen who represents one of the Lebanese successes abroad and the Lebanese foreign ministry will stand by him in his adversity to ensure he gets a fair trial," it said. Ghosn, who has Lebanese roots, was born in Brazil and is also French citizen.
Ghosn remains Renault   Chairman
Renault defied its partner firm, Nissan, and the French government on Tuesday night as its board decided to retain Carlos Ghosn as its chairman and chief executive in spite of his shock arrest by Japanese prosecutors.
Renault's board promoted Thierry Bolloré to deputy chief executive to head the company, but said the appointment was only made on a "temporary basis" in Ghosn's absence.
Ghosn, the head of the Renault, Nissan and Mitsubishi car manufacturing alliance, is chairman and chief executive of Renault. He is also chairman of Nissan and Mitsubishi.
The actions of Renault's board stand in stark contrast to those of its partners in the alliance, both of which quickly said they would remove Ghosn from their boards after Nissan said he had understated his income on financial statements.
In a statement following the board meeting, Renault said: "The board is unable to comment on the evidence seemingly gathered against Mr Ghosn by Nissan and the Japanese judicial authorities."
Reuters/ The Guardian