Hezbollah backed Sunni MPs meet at Lebanon's Dar al-Fatwa amid cabinet deadlock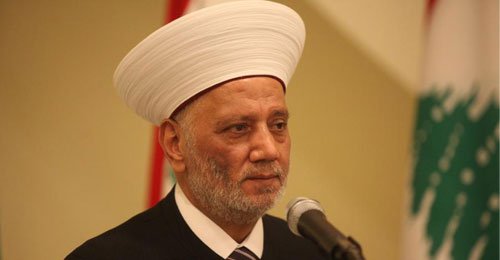 Meetings held at the Dar al-Fatwa in Beirut Thursday were the only development linked to Lebanon's cabinet formation process.
Grand Mufti Sheikh Abdul Latif Derian received a delegation of Hezbollah backed  Sunni deputies including Abdel Rahim Mrad, Qassem Hashem, Adnan Trabelsi and al-Walid Sukkarieh.
The deputies are demanding a representation in the next cabinet, a request rejected by both President Michel Aoun and Prime Minister-designate Saad Hariri.
"We hope that everyone will do their best to facilitate the formation of the government because they are part of the Lebanese fabric that wants a national government capable of salvaging the country and meeting citizens' demands," Derian said in a statement after meeting the independent Sunni deputies.
The Mufti stressed that Dar al-Fatwa does not differentiate between the Lebanese. It rather strengthens their unity, solidarity, meeting and dialogue, while renouncing differences among them.
In another meeting at Dar al-Fatwa, caretaker Interior Minister Nohad al-Mashnouq asserted that Hariri would not step down and that he would definitely form the new government.
"Hariri will not back out and he will form the cabinet within days or weeks," Mashnouq said.
In response to a question about the Hezbollah backed  Sunni MPs, the minister said that "some of them have entered through the back door … this is not the appropriate form of entry."
Parliamentary and legislative affairs, in addition to the government deadlock, were also tackled Thursday during a meeting between Speaker Nabih Berri and his deputy Elie Ferzli.
Speaking to reporters following the talks, Ferzli said that Berri highlighted the necessity to form the new cabinet swiftly.
"The speaker sees that the formation of the government is a dire need," he said.
For his part, Lebanese Forces deputy Fadi Saad said it was impossible to know how long it would take before Hariri forms his new government in light of the standstill caused by the Hezbollah backed  Sunni MPs
"It is difficult to resolve the crisis unless one of the parties retracts its position, which so far seems unlikely," Saad told Voice of Lebanon radio station.
Meanwhile, Hezbollah's  parliamentary bloc removed the "Sunni obstacle" from Aoun's court after saying it was Hariri's responsibility to guarantee the representation of the independent Sunni deputies.
Alluding to the ongoing stalemate, Hezbollah's bloc said: "Our commitment to supporting the right and demands of the independent Sunni MPs regarding their participation in the government is both moral and political."
Hezbollah   funded by Iran , but Lebanon is in dire need of a government able to make economic reforms that are seen as more pressing than ever. The country is wrestling with the world's third largest public debt as a proportion of the economy and stagnant growth.
Hariri, Lebanon's leading Sunni who is currently on a visit to France, has ruled out ceding one of his cabinet seats to the Hezbollah-allied Sunnis.
Asharq Al-Awsat