Hezbollah continues to block formation of new Lebanon cabinet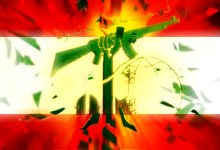 The Lebanese Shi'ite Muslim group Hezbollah will not give way in a dispute over Sunni Muslim representation in a new unity government, the pro-Hezbollah al-Akhbar newspaper reported on Wednesday, signaling no quick end to the standoff.
Separately, a senior political source close to Hezbollah told Reuters it was up to President Michel Aoun, a Maronite Christian, to resolve the problem because neither Hezbollah nor Prime Minister-designate Saad al-Hariri could give ground.
Six months since a parliamentary election, the row over Sunni representation is seen as the final hurdle to the formation of a new government. Posts in the 30-seat cabinet are parceled out along sectarian lines.
Lebanon is in dire need of a government able to make economic reforms that are seen as more pressing than ever. The country is wrestling with the world's third largest public debt as a proportion of the economy and stagnant growth.
A deal seemed close last week when a dispute over Christian representation was settled, with the anti-Hezbollah Christian Lebanese Forces ceding ground to Aoun and his Free Patriotic Movement, which is allied to Hezbollah.
But Hezbollah, a powerful armed group backed by Iran, is pressing its demand for one of its Sunni allies to be given a cabinet portfolio to reflect gains they made in the May 6 parliamentary election.
Al-Akhbar, citing unidentified sources, said Aoun and Hariri must listen to Hezbollah's Sunni allies "and agree with them on a way out" of the row. "Hezbollah will accept whatever the allies find appropriate," it said.
Hariri, Lebanon's leading Sunni who is currently on a visit to France, has ruled out ceding one of his cabinet seats to the Hezbollah-allied Sunnis.
Another possibility would be for Aoun to nominate one of the Hezbollah-allied Sunnis within a group of ministers allocated to him. But he appeared to rule this out last week when he criticized the Hezbollah-allied Sunnis for demanding a ministry, saying their demand was "not proper" or "justified".
The senior political source close to Hezbollah said the ball was in Aoun's court.
"Neither can Hariri retreat, nor can the (Hezbollah-allied) Sunnis, nor can Hezbollah. If the president wants a government he has to take the responsibility," the source said.
REUTERS