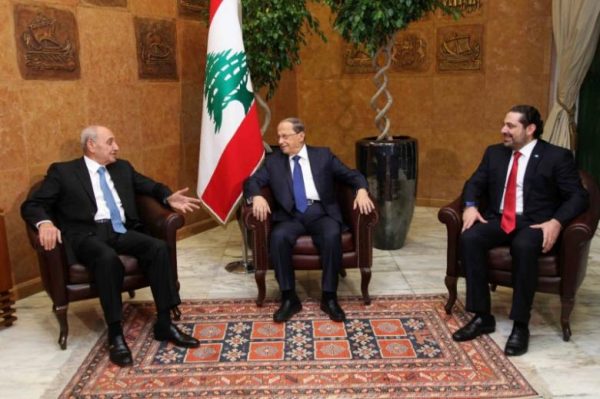 A  meeting between President Michel Aoun, PM-designate Saad Hariri and Speaker Nabih Berri is expected in the coming days to announce the government formation decrees, after  the progress  that was made in recent days amid concessions from several parties, al-Joumhouria newspaper  reported on Friday.
Sources following up on the formation process told the daily "
The timing of the formation process was subject to the return of Speaker Nabih Berri from Geneva. He returned back to Beirut Thursday evening, hence the formation decrees will expectantly be issued in the next few days, "informed sources told the daily "
The sources added that a "tripartite meeting will be held at Baabda Palace between Aoun and Hariri first after which, according to the constitution, Berri will be invited by the President to join."
On Thursday, Hariri said the new government "will be formed this week and not next week. There are some small pending details and the government will bring together everyone."
For his part, Aoun heralded a "near" government lineup when he told reporters on Thursday that its formation is "just around the corner."
The formation process has made significant progress in recent days amid concessions from several parties.
Hariri was tasked with forming the new government on May 24. His mission was hampered by political wrangling over shares, especially because Aoun insisted on a presidential share in addition to the  share of  Free Patriotic Movement which he founded prior to becoming the president
This error message is only visible to WordPress admins
Error: No connected account.
Please go to the Instagram Feed settings page to connect an account.