Lebanon FM accuses Israel PM of fabricating lies about missiles to" justify another aggression"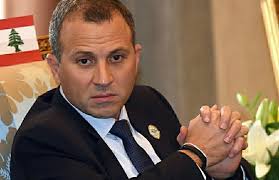 Lebanon's foreign minister said on Monday that Israel was seeking to "justify another aggression" with false allegations of missile sites near Beirut airport belonging to Iran-backed Hezbollah.
Prime Minister Benjamin Netanyahu, speaking at the United Nations last week, identified three locations near the airport where he said Lebanon's Hezbollah was converting "inaccurate projectiles" into precision-guided missiles.
Lebanese Foreign Minister Gebran Bassil, speaking at a meeting of foreign ambassadors called to respond to Netanyahu's charges, said there were "many statements … affirming the possession of accurate missiles by Hezbollah".
But he added:"This does not mean that these missiles are present in the vicinity of Beirut airport".
Israel aimed to "falsify facts concerning Lebanon and to vocalize lies that carry the seeds of a threat that does not frighten us", he said.
Netanyahu had used the platform of the U.N. General Assembly "to justify another aggression on a sovereign country like Lebanon".
The Lebanese foreign ministry was taking foreign envoys on a tour of at least one of the locations in Beirut near the airport to seek to disprove Netanyahu's comments.
Hezbollah, founded by the Iranian Revolutionary Guards in 1982, last fought a major conflict with Israel in 2006. The group has grown stronger since then, notably through its role in the Syrian war fighting in support of President Bashar al-Assad.
Hezbollah leader Sayyed Hassan Nasrallah said last month the group had obtained precision rockets despite Israeli strikes in Syria.
The Israeli military released a video clip and photos of what it said were Hezbollah rocket building sites in Beirut.
REUTERS