Tributes laud Annan as man of peace and champion of rights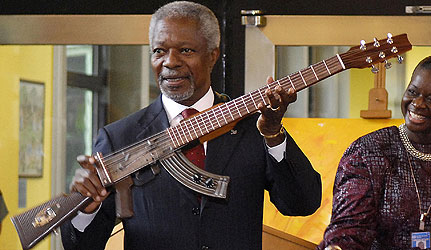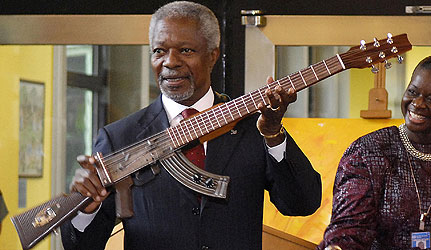 Tributes have been paid from across the world to former United Nations Secretary-General and Nobel Peace Prize laureate Kofi Annan, who died in hospital in Bern, Switzerland, in the early hours of Saturday aged 80.
U.N. SECRETARY GENERAL ANTONIO GUTERRES:
"In many ways, Kofi Annan was the United Nations. He rose through the ranks to lead the organization into the new millennium with matchless dignity and determination."
– – – –
GHANAIAN PRESIDENT NANA AKUFO-ADDO:
"Consummate international diplomat and highly respected former Secretary General of the United Nations, Mr. Kofi Annan was the first from sub-Saharan Africa to occupy this exalted position. He brought considerable renown to our country by this position and through his conduct and comportment in the global arena."
"He was an ardent believer in the capacity of the Ghanaian to chart his or her own course onto the path of progress and prosperity."
– – – –
RUSSIAN PRESIDENT VLADIMIR PUTIN:
"Many years of the life of this remarkable person and great politician were devoted to the service of the United Nations. Heading the UN at a difficult time, he did a great deal to realise the purposes and the goals of the organisation, strengthening its central role in world affairs. His personal contribution to building the UN's peacekeeping potential, as well as in the settlement of a number of regional conflicts, was particularly significant.
"I sincerely admired his wisdom and courage, his ability to make balanced decisions even in the most difficult, critical situations."
– – – –
FORMER GHANAIAN PRESIDENT JOHN MAHAMA:
"He lived and worked for global peace, security and sustainable development in very challenging times. A proud son of Ghana and Africa."
– – – –
THE ELDERS (group of global leaders):
"He played a vital role in leading The Elders' work, and was a voice of great authority and wisdom in public and private.
"He was a constant advocate for human rights, development and the rule of law.
"Kofi Annan had a life-long commitment to the cause of peace and was known for his staunch opposition to military aggression, notably the US-led invasion of Iraq in 2003.
– – – –
BRITISH PRIME MINISTER THERESA MAY:
"A great leader and reformer of the UN, he made a huge contribution to making the world he has left a better place than the one he was born into."
– – – –
FRENCH PRESIDENT EMMANUEL MACRON:
"France pays tribute to him. We will never forget his calm and resolute approach to matters, nor the strength of his commitments."
– – – –
RAILA ODINGA, KENYAN OPPOSITION LEADER AND FORMER PRIME MINISTER:
"A great African, a great leader of the world. We here in Kenya remember him for the role that he played in presiding over the process of reconciliation following the crisis that followed the 2007 general elections. Kofi Annan was able to bring the different factions in our country together."
– – – –
SOUTH AFRICAN PRESIDENT CYRIL RAMAPHOSA:
Annan was "a great leader and diplomat extraordinaire" who had advanced the African agenda within the United Nations and had "flown the flag for peace" around the world.
AMNESTY INTERNATIONAL:
"The world has lost a great leader. Kofi's dedication and drive for a more peaceful and just world, his lifelong championing of human rights, and the dignity and grace with which he led will be sorely missed in a world which needs these characteristics more than ever."
– – – –
DUTCH PRIME MINISTER MARK RUTTE:
"As UN Secretary-General he always showed passion and good judgment as he worked for global peace and security, devoting special attention to human rights. The world has lost a great and charismatic man."
– – – –
RUSSIAN PRIME MINISTER DMITRY MEDVEDEV:
"…A legendary UN Secretary General and Nobel Peace Prize winner. He always sought to put an end to armed conflict, to make fighting stop and negotiations begin. A peacekeeper of his stature will be sorely missed."
– – – –
CYPRUS PRESIDENCY
"Despite the fact that his efforts to solve the Cyprus problem, and the plan which bore his name were not met with success, his name has been linked to the issue of occupied Cyprus."
– – – –
ESPEN BARTH EIDE, FORMER NORWEGIAN FOREIGN MINISTER AND EX-UN ENVOY FOR CYPRUS:
"Deeply saddened by the loss of one of the greatest leaders of our times, a voice of reason in an unreasonable world, a man of compassion, dialogue and peace, a wonderful human being, and a good friend. RIP"
– – – –
FORMER KENYAN PRESIDENT MWAI KIBAKI:
"Kofi Annan will be remembered for matching his inimitable elegance with enchanting eloquence.
"So far, Kofi Annan remains the most iconic representative of Africa at the UN."