Third Turkish power ship docks in Zouk Mosbeh after it was rejected in Jiyye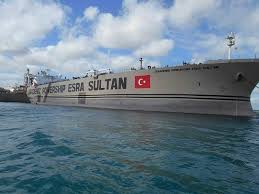 The Turkish power generating ship Esra Sultan docked Monday in the Zouk Mosbeh area after it was rejected  in Jiye and Zahrani  by residents and political forces over environmental and economic issues.
The ship, which will  reportedly begin producing electricity by Thursday morning  and will provide the Keserwan district and parts of the Jbeil and Northern Metn districts with around 100-120 megawatts, which would lead to a 22-24 hour power supply, whereas in Jiye it would have only provided around 40 megawatts, according to   reports
In the Jiye area the ship  was rejected by the Progressive Socialist Party and the area's residents. It later failed to sail south towards al-Zahrani because it was rejected  by the AMAL Movement.
The Energy Ministry later decided to send it to Zouk.
Caretaker Finance Minister Ali Hassan Khalil, who had taken part in a protest outside the al-Zahrani power plant alongside MPs from the Development and Liberation bloc, has stressed that the AMAL Movement rejects the policy of renting power ships.
He has argued that this policy has prevented a sustainable solution for the country's chronic power generation crisis.
When the first Turkish power ships set sail in 2013, the aim was to help temporarily with the electricity crisis while we build new power plants and enhance the existing ones. Five years later, we're still suffering from the same severe outages and are bringing in more Turkish power ships.
Corruption accusations continue to surface over the renting of these ships   while Lebanese people pay the price . Regardless how many more ships are rented corruption  will continue and the Lebanese don't expect any 24/7 electricity anytime soon .
It appears the Change and reform that president Aoun promised is turning out to be  more fatty bank accounts and  private yachts and planes for his close associates according to political analysts.