US quits UN Human Rights Council, as it faces criticism over detention of children at borders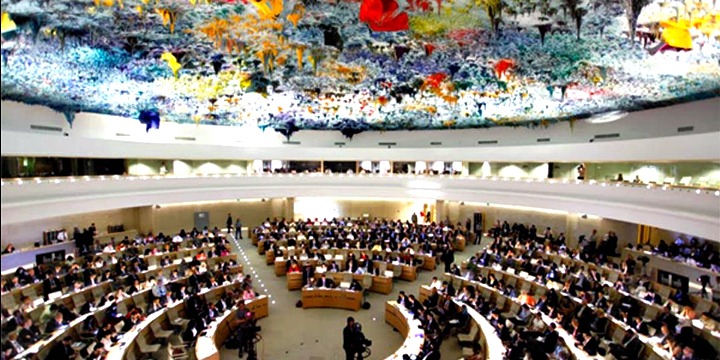 U.N. High Commissioner for Human Rights Zeid Ra'ad al-Hussein  who has been very critical of US border policy of separating migrant children from parents slammed the US move  as "Disappointing".
He  called on Washington to halt its "unconscionable"  border policy.
Rights groups have criticized the Trump administration for not making human rights a priority in its foreign policy.
Critics say this sends a message that the administration turns a blind eye to human rights abuses in some parts of the world.
Diplomats have said the U.S. withdrawal from the body could bolster countries such as Cuba, Russia, Egypt and Pakistan, which resist what they see as U.N. interference in sovereign issues.
Among reforms the United States had been seeking was to make it easier to kick out member state with egregious rights records.
Haley said the U.S. withdrawal from the Human Rights Council "is not a retreat from our human rights commitments."
Twelve rights and aids groups, including Human Rights First, Save the Children and CARE, wrote Pompeo to warn the withdrawal would "make it more difficult to advance human rights priorities and aid victims of abuse around the world."
"The U.S.'s absence will only compound the council's weaknesses," they wrote.
Jamil Dakwar, director of the American Civil Liberties Union's Human Rights Program, said Trump's "misguided policy of isolationism only harms American interests and betrays our values as a nation."
Jewish rights group the Simon Wiesenthal Center applauded the U.S. withdrawal and urged other countries to do the same.
Reuters reported last week that talks on reforming the council had failed to meet Washington's demands, suggesting the Trump administration would quit.
The council meets three times a year to examine human rights violations worldwide. It has mandated independent investigators to look at situations including Syria, North Korea, Myanmar and South Sudan.
Its resolutions are not legally binding but carry moral authority.
Speaking before the U.S. announcement, U.N. spokesman Stephane Dujarric said Secretary-General Antonio Guterres "is a strong believer in the human rights architecture of the U.N. and the active participation of all states."
When the Council was created in 2006, U.S. President George W. Bush's administration shunned the body.
Under President Barack Obama the United States was elected for a maximum two consecutive terms on the council by the U.N. General Assembly.
After a year off, Washington was re-elected in 2016 for its current third term.
In March 2011, the U.N. General Assembly unanimously suspended Libya's membership in the council because of violence against protesters by forces loyal to Libyan leader Muammar Gaddafi.
But U.N. officials said no member has withdrawn.
Haley said a year ago Washington was reviewing its membership and called for reform and elimination of a "chronic anti-Israel bias."
The body has a permanent standing agenda item on suspected violations committed by Israel in the occupied Palestinian territories that Washington wanted removed.
The council last month voted to probe killings in Gaza and accused Israel of using excessive force.
The United States and Australia cast the only "no" votes.
"The U.N. Human Rights Council has played an important role in such countries as North Korea, Syria, Myanmar and South Sudan, but all Trump seems to care about is defending Israel," said Human Rights Watch executive director Ken Roth.
UN back to business as usual with empty U.S. seat
The United Nations' Human Rights Council returned to business as usual Wednesday despite the U.S. pulling out — what one Western diplomat called a "big bang"— a day earlier.
The UN's top rights body, based in Geneva, took up a discussion on summary executions and freedom of expression with the U.S. seats unoccupied.
Diplomats made no immediate or direct mention Wednesday of the American move. But one Western diplomat, speaking on condition of anonymity because he was not authorized to speak publicly on the matter, said the U.S. was notably absent from an informal back room meeting in Belarus that it might normally have attended.
Russia's U.N. mission said in a statement that the U.S. exit from the Council reflected Washington's unilateralist approach to global affairs.
It said the U.S. had tried but failed to turn the body into an "obedient instrument for advancing their interests and punishing the countries it dislikes," and that American criticism of the body for failing to make changes advocated by Washington appeared "cynical."
The Russian mission described the council as a "key international platform for cooperation in protecting human rights."
Reuters/ France24/AP