Will Kim tell North Korea he's giving up nuclear bombs in exchange for Big Macs
Will Kim seek 'burger diplomacy'? North Korea leader 'could look to bring McDonald's and a Trump-branded hotel to Pyongyang to secure security and investment' at summit
North Korean officials said the isolated regime wants to modernise its economy 
They said the North wants to  become a 'normal country' at a dinner in April
A South Korean official who was there said the North wants US investment 
Asked for examples of US sponsors, he cited McDonald's and a Trump Tower 
Could the prospect of a Big Mac be all it takes to convince Kim Jong-un to curtail his nuclear ambitions?
North Korean officials said the isolated regime wants to modernise its economy and become a 'normal country' during a dinner that followed the recent historic summit between Kim and South Korean president Moon Jae-in.
Chung-in Moon, a special adviser to president Moon who attended the dinner in April, recently revealed that North Korea wants American investments to deliver a boost to the nation's economy.
US companies establishing operations in Pyongchang would also provide a guarantee to North Korea's security.
'They want to be a normal country, a normal state, to be recognised by the United States,' Chung-in told CNN International.
'They welcome American sponsors and multilateral consortiums coming into North Korea.'
Asked for examples, Chung-in suggested McDonald's and a Trump-branded tower as examples of what would be 'modern' in North Korea.
However, such investments would be near impossible unless economic sanctions against the North are lifted.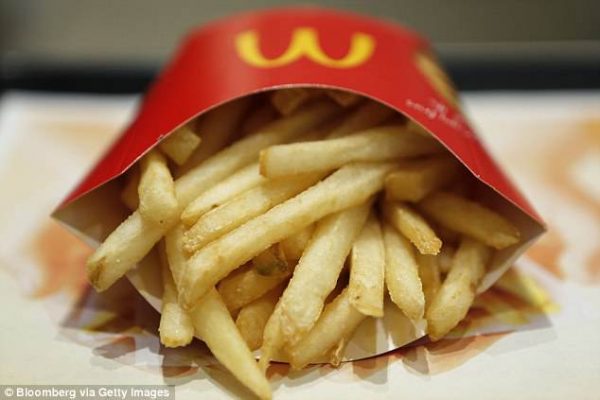 But last month, US Secretary of State Mike Pompeo said the US is prepared to offer North Korea security assurances and bountiful private investment if it makes the strategic choice to give up its nuclear weapons.
The US price for normalisation – complete, verifiable and irreversible denuclearisation – is one Pyongyang has never before been willing to pay, seeing nuclear weapons as the ultimate guarantee of the regime's survival.
But after the April summit, Kim and Moon signed a joint declaration detailing their joint goal to work towards a 'complete' denuclearisation of the Korean Peninsula.
And it could be on the cards with another historic summit between Kim and Donald Trump set for Tuesday.
Pompeo dangled the prospect of US investment in North Korea, with upgrades in energy, infrastructure, technology and agriculture, if a deal is struck.
'This will be Americans coming in… to help build out the energy grid — they need enormous amounts of electricity in North Korea; to work with them to develop infrastructure, all the things that the North Korean people need, the capacity for American agriculture to support North Korea so they can eat meat and have healthy lives,' he said.
'Those are the kind of things that, if we get what it is the President has demanded – the complete, verifiable, irreversible denuclearisation of North Korea – that the American people will offer in spades.'
Pompeo, who has met twice with Kim, described him as well-informed and attuned to Western media coverage, a leader 'who knows his brief' and what he wants to achieve.
The secretary said he was 'convinced' Kim shared US goals.
'We will have to provide security assurances, to be sure,' Pompeo said.
'This has been the trade-off that has been pending for 25 years. No president has ever put America in a position where the North Korean leadership thought that this was truly possible.'
MAILONLINE