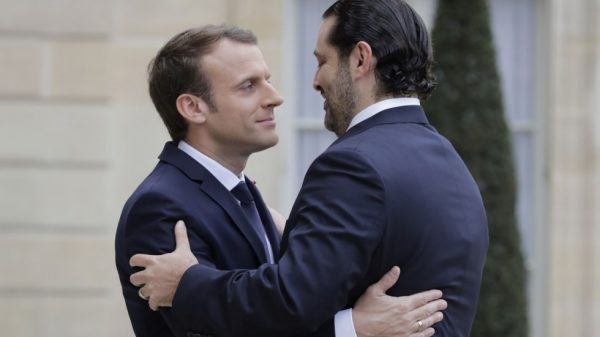 Saudi Arabia has dismissed French President Emmanuel Macron's recent comments in which he claimed responsibility for diffusing an international crisis last year involving a Lebanese prime minister's mysterious visit to the oil-rich kingdom.
Macron told local news outlet BFM TV last week that Lebanese Prime Minister Saad al-Hariri, an ally of Saudi Arabia, was held in Riyadh after quietly taking a flight there and announcing his resignation in early November. Saudi officials and Hariri himself have maintained that the Sunni Muslim Lebanese leader traveled there because he feared assassination, but Macron said for the first time that Hariri "was held in Saudi Arabia for several weeks" and that, "If France wasn't listened to then there probably would be a war in Lebanon at this moment" in comments translated by Reuters.
The Saudi Arabian Foreign Ministry responded Tuesday via a statement carried by the state-run Saudi Press Agency, calling Macron's remarks "untrue" and instead blaming Iran and its Lebanese Shiite Muslim paramilitary partner Hezbollah for the unrest.
"All evidence confirms that what is dragging Lebanon and the region toward instability is Iran and its tools like the terrorist Hezbollah militia," the statement read, citing an official source in the ministry.
The statement also accused Hezbollah of being "involved in the assassination of former Lebanese Prime Minister Rafik al-Hariri and the killing of two French citizens." Polarizing reactions to the unclaimed 2005 killing of Rafik al-Hariri, father of the current prime minister, prompted the end of Syria's post–civil war occupation of Lebanon and the splitting of the country's political landscape into two major blocs: the March 8 Alliance—dominated by the Maronite Christian Free Patriotic Movement as well as Shiite Muslim parties Hezbollah and Amal Movement—and the March 14 Alliance, led by Hariri's mostly Sunni Muslim Future Movement.
Saad al-Hariri shocked viewers on November 4 by appearing on the Saudi-based Al Arabiya news network, revealing that he had fled from Lebanon to Saudi Arabia, where he was born and has dual citizenship. Hariri, who was appointed prime minister for the second time in December 2016, said he learned of a plot against his life and announced his resignation, producing widespread confusion and potential chaos for Lebanon's carefully balanced political system, which distributes power based on sect.
That same weekend, Saudi Arabia was rocked by two other major developments. Zaidi Shiite Muslim rebels of the Houthi movement—officially known as Ansar Allah—claimed responsibility for a missile attack against Riyadh's international airport, and the influential Saudi Crown Prince Mohammed bin Salman led a massive anti-corruption purge, arresting dozens of royals and government officials.
The Saudi Press Agency reported that Crown Prince Mohammed told U.K. Foreign Minister Boris Johnson that the kingdom accused its revolutionary Shiite Muslim rival Iran of supplying the Houthis with missiles and that the attack "may be considered an act of war against the kingdom." The day prior, Saudi Gulf Affairs Minister Thamer al-Subhan told Al Arabiya that his country considered Lebanon to be "declaring war on Saudi Arabia due to the aggression of Hezbollah."
As Hezbollah and Lebanese government officials denied knowledge of any plot to kill Hariri and accused Saudi Arabia of kidnapping their prime minister, Macron paid a surprise visit to Saudi Crown Prince Mohammed bin Salman in an attempt to calm regional tensions.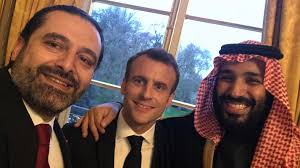 Macron reiterated France's support for "the stability, security, sovereignty and integrity of Lebanon," via his office. A week later, Macron met with Hariri in Paris, inviting him to stay in France. Hariri ultimately returned to Lebanon on November 21, just a day short of Lebanon's annual celebration of its independence from France. Hariri supporters waved Lebanese, Saudi and Future Movement flags the following day as he addressed crowds gathered for his return.
Hariri and his pro-Saudi Arabia Future Movement's voice in the country has increasingly waned, however, as Hezbollah and its allies grow increasingly influential. Lebanese President Michel Aoun, founder of the Free Patriotic Movement, and Parliamentary Speaker Nabih Berri, chairman of the Amal Movement, are both Hezbollah allies on the March 8 bloc, while the Future Movement lies on the opposing March 14 coalition.