Israel, Gaza engaged in heaviest attacks since the 2014 war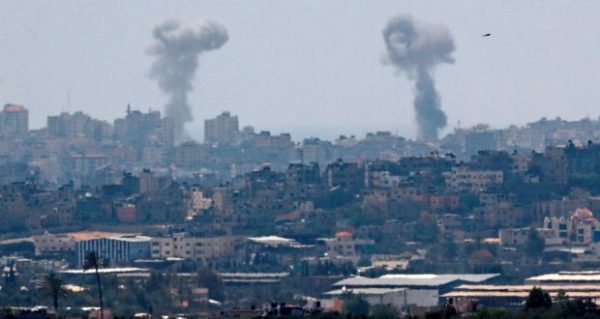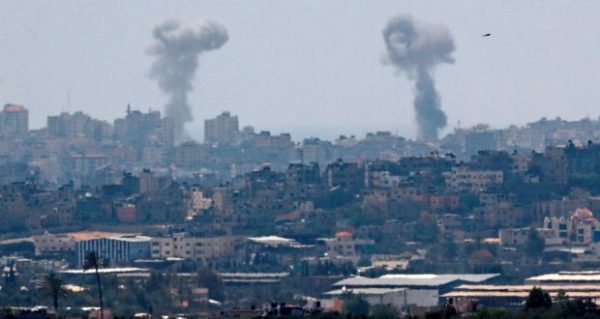 Israel's army and militants in Gaza have engaged in their heaviest attacks since the 2014 war in an escalation of violence that followed weeks of bloodshed at Palestinian protests along the frontier.
On Tuesday morning, militants fired close to 30 mortar shells into Israel's south, the largest such assault since 2014.
Israel Defense Forces (IDF) fighter jets responded with strikes on more than 35 sites it said belonged to Gaza's rulers, Hamas, and the Palestinian Islamic Jihad faction. Further salvoes of rocket fire were later launched into Israel. Israeli rocket warning sirens continued sounding late into the afternoon.
"This is definitely the biggest barrage of rockets and mortar fire to Israel since Operation Protective Edge in the summer of 2014," said IDF spokesman Lt Col Jonathan Conricus. "And equally, it is also the largest IDF response, or retaliatory attack."
The IDF said three of its soldiers were wounded, one moderately, in Tuesday's attacks and evacuated to hospital. Conricus estimated Israel's Iron Dome aerial defence system had intercepted up to 25 projectiles.
Late on Tuesday, Hamas and the smaller Islamic Jihad group issued a rare joint statement, claiming shared responsibility for the mortar barrage.
They accused Israel of beginning "this round of escalation" by targeting their installations in the past two days. It was the first time the armed wing of Hamas had claimed responsibility for such attacks out of Gaza since the 2014 war.
There were no immediate reports of injuries in Gaza from the airstrikes.
The Israeli prime minister, Benjamin Netanyahu, had pledged to respond "with great force" following the Tuesday morning mortar strikes. He blamed the attack on Hamas and Islamic Jihad, saying Israel would "exact a heavy price from anyone who tries to attack it".
A projectile damaged a kindergarten building before the children had arrived and Israel told citizens in the area to be no further than a 15-second dash away from a shelter.
Israel's intelligence minister, Yisrael Katz, said the country was "closest to the threshold of war" since 2014. "We don't want it, and the other side doesn't either, but we have our red lines," he told Israel's Army Radio.
Frontier regions have been tense during the past two months as demonstrators in Gaza have massed along the border to protest against blockades imposed by Israel and Egypt, and the opening of the US embassyin Jerusalem. They are also demanding rights for Palestinian refugees and their descendants.
Israel's army has killed more than 110 people, most of them shot by snipers at the protests, but also in airstrikes and by tank fire. Thousands have been shot in the legs, medics have said.
The Israeli government has rejected repeated calls for independent investigations into the bloodshed and blames Hamas for using the rallies as cover to break through the perimeter fence.
Throughout the demonstrations, Israel's army has reported machine-gun fire from Gaza hitting buildings around the strip and militants have planted improvised explosive devices along the perimeter. Using tanks and fighter jets, the Israeli military has repeatedly bombed Gaza following such incidents.
Hamas, which fought three wars with Israel and backs the frontier rallies, had not fired rockets since protests began on 30 March and no Israeli has been killed during the mass movement.
With a pattern of attack and counterattacks on Tuesday, there are concerns the violence could deteriorate into a fresh round of conflict.
In a statement, the IDF said its forces had hit seven locations across the strip on Tuesday, including six military compounds, munition storage warehouses and naval targets. It also said jets had destroyed a tunnel it said was dug by Hamas that curved underground into Egypt to the south and back north into Israeli territory.
"Various rockets and mortars [were] fired against Israel from the morning hours. Some of them were fired by the Palestinian Islamic Jihad and some by Hamas, from their perspective, in response to our attacks that are of course ongoing," said Conricus.
He said commanders had no intention of escalating the situation but said "quiet will be met with quiet, hostility will be met with an appropriate response".
Separately on Tuesday, Palestinians launched boats from Gaza to protest against Israel's naval blockade. The Israeli army said it had intercepted the boats, apprehended 17 people on board and would tow the vessel to port. Medical personnel were assigned to treat any sick Palestinians on board and, following an inquiry, the group would be returned back to Gaza.
THE GUARDIAN