Berri's stance over deputy speaker position signals a warming of relations with Aoun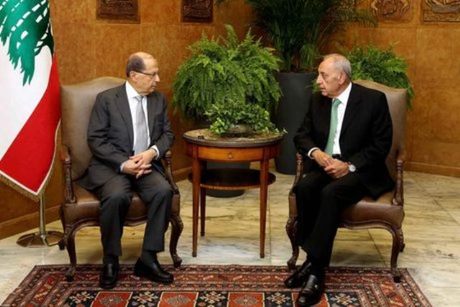 BEIRUT: As Lebanon's major political parties gear up to form the country's new Cabinet, a warming of relations between President Michel Aoun and Speaker Nabih Berri was evident Tuesday after the Amal Movement leader suggested the president, as the leader of the largest parliamentary bloc, should have the final say over who is elected deputy speaker.
A meeting between both leaders was described as "more than excellent" by the Speaker, who discussed with Aoun "the current local and regional developments."
Berri told reporters that the tentative discussion regarding the upcoming Cabinet was fruitful, yet it stopped short from touching on "specific names and ministerial portfolios."
Despite his rocky relationship with Aoun, Berri is widely expected to retain his position as parliament speaker, a seat he's held since 1992.
Their initial squabble dates back to 2016, when Berri vehemently opposed Aoun's bid for the presidency, tying the election of a president to a comprehensive political deal that includes an agreement over a new parliamentary electoral law, which was ratified last year, the makeup of the Cabinet and the distribution of ministerial portfolios.
Aoun was elected President in the second round after failing to secure a two-third majority due to Berri's parliamentary bloc casting blank ballots.
A touted scenario is Aoun instructing his own bloc to follow suit this time around during the election of the speaker, as a reciprocal gesture.
Last week, Prime Minister Saad Hariri endorsed Berri's bid, telling reporters "if he's a candidate then I'll support him."
The Free Patriotic Movement and Berri have locked heads on more than one occasion, with the latest feud emanating in the wake of a leaked video in which Foreign Minister and FPM leader Gebran Bassil calling the Speaker a "thug."
The country descended into momentary chaos after clashes erupted between supporters of the FPM and Amal before peace between both parties was restored.
Prior to that, a quarrel broke out between the president and Berri over a decree granting seniority to army officers who served under Aoun when he was army commander in the late 1980's.
Berri had insisted that the decree is unconstitutional because it lacked the signature of Finance Minister Ali Hassan Khalil, a close aide to the Speaker.
At the core of the feud was Berri's reluctance to force Aoun to acknowledge that the post of finance minister, which sources close to Berri claim the Taif Accord has reserved to Shiites, enjoys veto power in the executive branch under the current sectarian power-sharing arrangement.
AN NAHAR