Lebanon Blames Iranian Meddling for Crisis in Arab World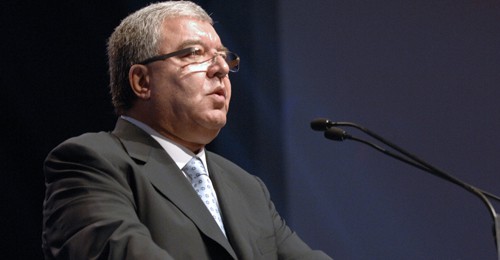 Lebanese Interior Minister Nouhad al-Mashnouq said on Thursday that Iran's expansion in the region "is one of the reasons for the security and political crisis in the Arab world."
He stressed: "Lebanon is a Lebanese responsibility, but it has been an Arab responsibility for several years and their first line of defense."
He made his remarks during the 35th Arab Interior Ministers Conference that was held in Algeria.
"It turns out that Lebanon's security is an important part of the strategic security of all Arabs. It has not and will not become a thorn in their side," he continued.
"You should not give up and deliver Lebanon to the Iranian project or any other project," Mashnouq urged.
"We are not fans of a free confrontation… and I have previously called for dialogue with Iran over issues of Arab national security," he added.
"Do we really have a partner in Iran? What have we done in the confrontation or dialogue with Iran?" he asked.
Mashnouq noted that Custodian of the Two Holy Mosques King Salman bin Abdulaziz launched operation Decisive Storm "not out of his love for war, but because it was the only solution to counter Iran's expansion in Yemen."
The Iranian project has never succeeded in acting as a factor for stability or development in any area that it has reached, he went on to say.
Iran has only created crises, he stressed before the gatherers.
The extent of Tehran's presence in crises in Arab countries demands the establishment of a joint strategy as soon as possible because any delay only favors the expansion, he said.
"In Lebanon, we are striving to have the state be the only side that monopolizes the use of weapons in war and peace through an understanding on a national defense strategy," the minister remarked.
These efforts will become clearer after the May 6 parliamentary elections, he explained.
Mashnouq had held talks in Algeria with Saudi Interior Minister Prince Abdulaziz bin Saud bin Nayef bin Abdulaziz.
He expressed to him the Lebanese people's relief with the visit Prime Minister Saad Hariri paid to the Kingdom last week.
The Saudi official extended an invitation for Mashnouq to visit Saudi Arabia at the end of March.
Asharq Alwsat