All Iranian militia, including Hezbollah, must leave Syria, says French minister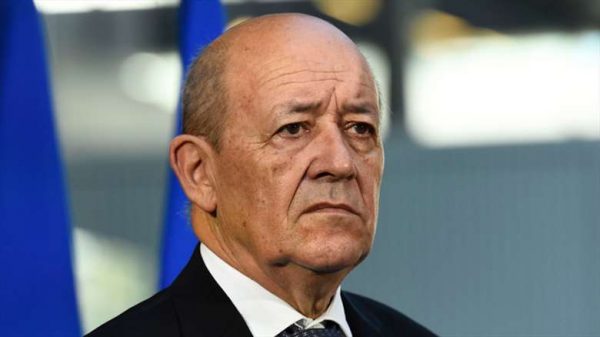 PARIS – France's foreign minister said on Wednesday that Turkey and Iran were both violating international law through their actions in Syria, France's toughest comments yet on Turkish involvement in the Syrian conflict.
Speaking on BFM television, Jean-Yves Le Drian also said there were indications Syrian government forces were using toxic gas against civilians.
Asked whether he wanted Turkish armed forces to withdraw from Syria, Le Drian replied that he wanted "the withdrawal of all of those who ought not to be in Syria, including Iranian militia, including Hezbollah.
While not specifically calling for Turkey to pull back from an offensive against Kurdish militias in northern Syria, he said Ankara should not worsen the conflict.
"Ensuring the security of its borders does not mean killing civilians and that should be condemned. In a dangerous situation in Syria, (Turkey) should not add war to war."
France has backed the Syrian opposition during the seven-year war and is part of the U.S.-led coalition fighting against Islamic State militants.
Le Drian said international law "is being violated by Turkey, by the Damascus regime, by Iran and those who are attacking (rebel-held areas) eastern Ghouta and Idlib".
Turkey launched an operation in Syria last month against Kurdish militia which it views as allies of separatists fighting an insurgency in southern Turkey. Its European Union Minister Omer Celik said Le Drian's statement reflected "a double standard on the issue of terror".
"Turkey's fight conforms to international law. Those who violate the law and commit crimes are those who arm the PYD-YPG terror groups," he said of the main Syrian Kurdish militia.
Le Drian is due in Tehran on March 5 for talks at a time when Washington has put pressure on European allies to toughen their stance on Tehran. Relations between France and Iran have deteriorated in recent months. Le Drian has accused Iran of harboring "hegemonic" aspirations in the region.
Iran is a key ally of the Syrian government in the seven-year civil war and it says it has no intention of withdrawing unless Syria requests it do so.
Le Drian also said it looked likely that President Bashar al-Assad's forces were using chlorine gas in their Russian-backed offensive on rebel-held Idlib province and in the besieged enclave of eastern Ghouta near Damascus.
"I'm speaking with a degree of caution because you have to be careful pending full documentation, but all the indications that we have show that at the moment chlorine is being used by the Syrian regime," Le Drian said.
French President Emmanuel Macron said in May last year that "any use of chemical weapons would result in reprisals and an immediate riposte, at least where France is concerned."
(Reuters)