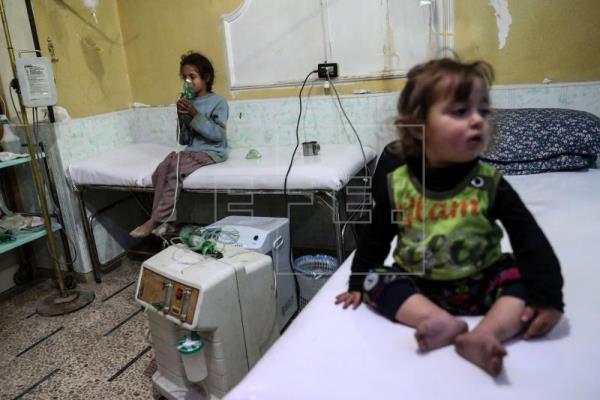 After multiple chlorine gas attacks on civilians in recent weeks, U.S. Ambassador Nikki Haley told the Security Council on Monday that Russia's proposal for an investigative body in Syria, "Is a way to whitewash the findings of the last investigation that Russia desperately wants to bury." Haley accused Russia of shielding the government of Syrian President Bashar al Assad from responsibility.
Recent attacks have included a reported chlorine attack last week in Eastern Ghouta, outside Damascus that injured over 20 civilians.
The U.S. State Department issued a statement Monday evening saying it is "gravely alarmed by continued allegations of the use of chlorine gas" by the Syrian government.
The open meeting was scheduled to be held behind closed doors, but the U.S., at the last minute Monday, asked for the session to be televised.
The Trump administration says that Assad's government may be developing new, more sophisticated chemical weapons. The characteristics of recent alleged attacks suggest Syria is producing chemical weapons despite a 2013 deal to destroy its program, according to officials, who say it's "highly likely" that Syria kept a stockpile of weapons.
And, the situation in Syria is deteriorating. More than 5.4 million people have fled the country since 2011 while millions more are displaced inside Syria, according to the U.N. Refugee Agency. Over 13 million people inside the country are in need, and nearly 3 million are in areas the U.N. describes as hard-to-reach and besieged. The conflict has put many children in serious danger.
In a sign of the U.S.-Russia division on the Council, Russia's Ambassador Vassily Nebenzia shot back, "It should be abundantly clear to all that some Council members have no interest in such investigation …They need neither facts nor clear accurate evidence."
Both the U.S. and Russia have proposals for how to replace the Joint Investigative Mechanism, whose renewal was vetoed by Russia and a lesser press statement has been delayed.
Nebenzia told the Council, "We regret that U.N. Mission to the U.N. refused to discuss our amendments to the draft Council press statement on Syria chemical dossier." But, a U.S. diplomat told CBS News that the U.S. pulled the draft because Russia wanted all statements about culpability out.
Three months ago, the Security Council failed to adopt a resolution to renew the mandate of an international panel known as the joint investigative mechanism (JIM), which investigated the use of chemical weapons in Syria, and no proposal has been approved to replace it.
Haley told the Council: "The latest Russian draft resolution does not meet any of these criteria. Russia's draft resolution completely ignores the findings of the JIM, which was an investigation that Russia supported until the investigators found Assad regime to be responsible."
The U.N.'s High Representative for Disarmament Affairs Izumi Nakamitsu, who briefed the Council, called for a "meaningful response" by the Council to recent attacks.
Nakamitsu said that the attacks made it "abundantly clear our continuing and collective responsibility to ensure that those responsible are held to account."
France's Ambassador Francois Delattre foreshadowed the future of the conflict: "The perpetrators of those barbaric crimes committed in Syria will be prosecuted sooner or later."
Haley warned that "while this Council has not yet been able to act to provide real accountability for chemical weapons use in Syria, the United States will not give up on the responsibility to do so."
CBS