Lebanon blasts Israel over oil exploration near border
Lebanon's energy minister vowed Thursday that Beirut will go ahead with oil and gas exploration near its maritime border with Israel, despite Israeli claims to the field that provoked wide condemnation in the tiny Arab country.
Cesar Abi Khalil's comments to The Associated Press came a day after Israel's defense minister described as "very provocative" Lebanon's offshore oil and gas exploration on the countries' maritime border and suggested that Lebanon had sought bids from international companies for a gas field "which is by all accounts ours."
The Israeli official's comments drew sharp condemnation from the militant Hezbollah group and Lebanese officials, including Prime Minister Saad Hariri, a Western ally, who described Lieberman's comments as a "blatant provocation that Lebanon rejects."
In December, the Lebanese Cabinet approved licenses for three international companies to carry out exploratory drilling off the Lebanese coast. The licenses will allow Italy's Eni, France's Total and Russia's Novatek, who bid for two of Lebanon's 10 offshore blocks, to determine whether oil and gas exist.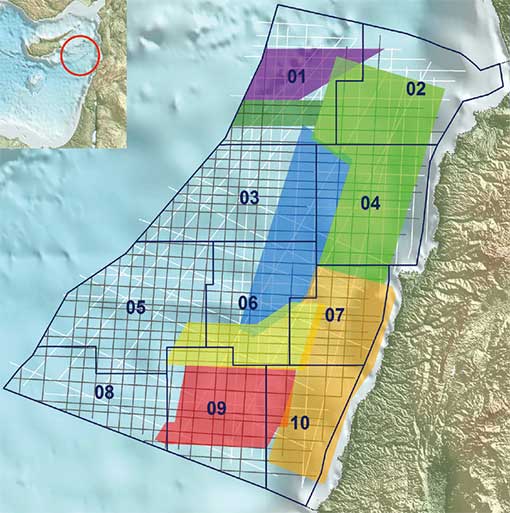 "We consider this statement as an aggression on Lebanon's sovereignty to practice its natural right to explore our oil resources," Abi Khalil said in his office. He added that the block that is on the border with Israel is "inside Lebanese territorial waters and Lebanon demarcated maritime borders in accordance with international laws."
Abi Khalil said Beirut had informed the United Nations by giving locations of its border after it was demarcated. Abi Khalil said the three companies will begin drilling in 2019 and depending on what they find, the country will put forward more blocks for oil companies to bid for.
A major find in Lebanon's southernmost waters could raise the possibility of a dispute with Israel, which is developing a number of offshore gas deposits, with one large field, Tamar, already producing gas, and the larger Leviathan field set to go online next year.
There are over 800 square kilometers (300 square miles) of waters claimed by the two countries, which are technically in a state of conflict. Israel and Hezbollah fought a month-long war in 2006.
"We will use all available means to protect our rights in our Lebanese waters," Abi Khalil said.
U.N. spokesman Stephane Dujarric said: "We're encouraging everybody to use diplomatic means to address these issues."
"We support the right of both Lebanon and Israel to exploit their maritime resources in accordance with the international Law of the Sea," he told reporters at U.N. headquarters in New York.
"We encourage both countries to continue efforts to address the delimitation of their respective maritime exclusion zones . and the exploration of their natural resources in a manner that does not give rise to tensions" but instead "builds confidence through dividends of cooperation," Dujarric said.
ABC NEWS