Hariri met Iraqi PM and several other leaders at Davos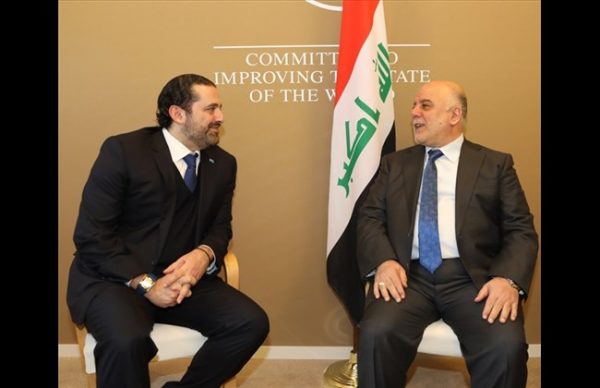 Prime Minister Saad Hariri  met  Thursday on the sidelines of World Economic Forum in the Swiss town of Davos  with his Iraqi counterpart  PM Haidar al-Abadi   to discuss the Lebanese Iraqi relations
This was one of the last meetings  Hariri will hold while in Switzerland, according to a statement from his office.
On Wednesday, Hariri met with Saudi Foreign Minister Adel al-Jubeir, his first with a senior Saudi official since the November resignation crisis.
Earlier on Wednesday, he also held separate talks with Belgian Prime Minister Charles Michel, Norwegian Prime Minister Erna Solberg, King Abdullah II of Jordan, Italian Prime Minister Paolo Gentiloni, Swiss President Alain Berset and International Monetary Fund chief Christine Lagarde.
Hariri also met with the president of the World Economic Forum Borge Bredne and the head of Italian energy company ENI, Claudio Descalzi.
ENI is one of the companies in a consortium that won a bid to begin exploratory drilling off Lebanon's coast.
Energy Minister Cesar Abi Khalil announced on Jan. 11 that Lebanon will sign contracts with the consortium of three international oil companies at the end of January to start gas and oil exploration.
According to the contracts, the consortium, composed of French company Total, Italian ENI and Russian Novatek, could begin explorations as soon as 2019.