US: Lebanon must ensure Hezbollah 'not part of the financial system'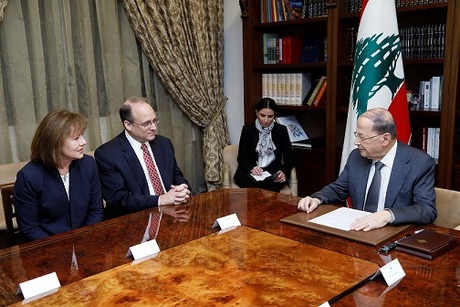 Marshall Billingslea, the assistant Treasury secretary for terrorist financing, called on Tuesday for Lebanon to cut Hezbollah off from the country's financial system.
Billingslea's remarks during a two-day trip to Lebanon came as the Trump administration looks to ramp up pressure on the Iran-backed political party and militant group, which is designated as a terrorist organization by Washington.
During the trip, "Billingslea engaged with Lebanese authorities and financial institutions on combating all forms of illicit finance," and "urged Lebanon to take every possible measure to ensure [Hezbollah] is not part of the financial sector," according to a statement released by the U.S. Embassy in Lebanon.
In Lebanon, Billingslea met with senior government officials, including President Michel Aoun and Prime Minister Saad Hariri, about "combating illicit finance," in particular "financing of [Hezbollah's] terrorist and trafficking activities."
Earlier this month, the Justice Department said it would establish a "financing and narcoterrorism" team to look into Hezbollah's role in drug trafficking operations, as well as individuals and organizations that provide financial support to Hezbollah.
That move came after Politico reported in December that the Obama administration sought to hamper a Drug Enforcement Administration operation targeting Hezbollah in order to facilitate negotiations related to the 2015 Iran nuclear deal.
Hezbollah has denied any role in drug trafficking operations, arguing that its religious affiliation did not permit it to be involved in such activities.
THE HILL