Lebanon's top Shiite cleric describes Christian president as Imam Michel Aoun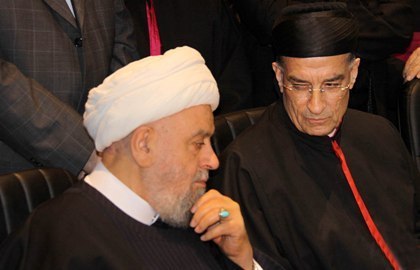 Higher Islamic Shiite Council chief Sheikh Abdul Amir Qabalan described    at a Christian-Islamic summit on Jerusalem in Bkirki on Thursday President Michel Aoun as "Imam Michel Aoun" in appreciation for  his stances on Jerusalem, during an emergency summit for the Organization of Islamic Cooperation .
"It turns out that the representatives of Muslims are (Foreign Minister) Jebran Bassil and Michel Aoun and the representatives of Christians are (Speaker) Nabih Berri and (Prime Minister) Saad Hariri," said Qabalan  in Bkirki.
The Christian-Islamic  summit was called by Maronite Patriarch Beshara al-Rahi to discuss the developments after U.S. President Donald Trump recognized Jerusalem as Israel's capital and ordered the relocation of the U.S. embassy from Tel Aviv to the disputed holy city.
"They represent me," Qabalan added, referring to Aoun and Bassil.
"Michel Aoun represents the Lebanese and I call him Imam Michel Aoun," the Shiite leader went on to say.
"We are one nation. We draw strength from God and we work for his sake. We support the aggrieved and we stand in the face of the aggressor," Qabalan said.
Turning to Lebanon, the Shiite leader said the country is "small and weak, but also strong through its unity and its strenuous efforts to support rightful causes."
"Bkirki is not for Maronites but rather a Lebanese land where all Lebanese are represented," Qabalan added.
During an emergency summit for the Organization of Islamic Cooperation on Wednesday, Aoun had called on the international community to recognize Palestine as a state and urged Muslim nations to penalize any state that recognizes Jerusalem as Israel's capital.
Bassil for his part has called for an Arab popular uprising and for diplomatic, political and economic Arab measures against Trump's decision to recognize Jerusalem as Israel's capital.
"Jerusalem cannot belong to a unilateral state… Jerusalem is for Jews, Christians and Muslims. We are the sons of Abraham, Jesus and Mohammed, we all want to pray in Jerusalem and we will not accept to be prevented," said Bassil at an emergency Arab League meeting in Cairo on Saturday.