BY NOOR NUGALI
RIYADH, Saudi Arabia – For the first time in the Saudi capital, an all-female concert took place late Wednesday.
The performance by Lebanese soprano Hiba Tawaji was sold out days before she took to a Riyadh stage.
Many excited attendees of all ages attended a packed King Fahad Cultural Center. The environment was electric with enthusiasm.
Nujood Mohammed, a translator and fan of Hiba, came alone to attend the concert. "The organizing was amazing, and I just love Hiba!"
There were many groups of young ladies attending together to enjoy the concert.
Ibtisam Mohammed commented: "This is my first time to attend a concert in Riyadh."
When entering the lobby to the music hall, the audience was greeted with the enchanting sounds of a young pianist, Eman Gusti, playing Beethoven's "Fur Elize."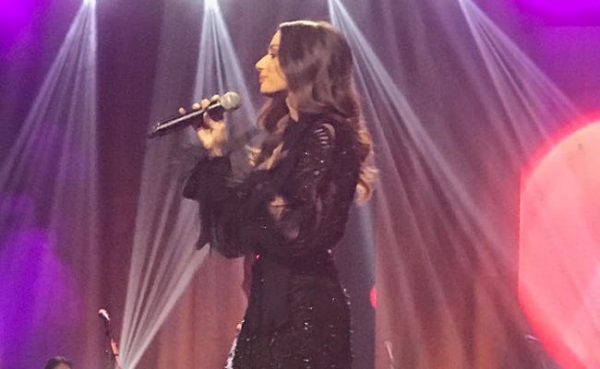 A college-going English literature student, Gusti took up playing the piano as a hobby and now plays professionally. This was her first time to play in front of an audience, an enchanting prequel to the excitement that lay ahead.
The event was well organized by the General Entertainment Authority (GEA).
Batool Ali, a local organizer, was making sure that the guests were satisfied with their seats, taking feedback and comments from the guests on how to improve future events.
Ghala Al-Dossary was the opening act, playing a serene oud to the music of Um Kalthoum, as she had the audience entranced with her great talent.
Before the curtain was drawn, a short introduction was projected on a large screen. Everything went dark and quiet. Then Tawaji entered, and the crowds screamed; she calmed them down with a welcoming Arabic endearment, "Ya zeinkom."
The night began with Tawaji playing famous Arabic tunes but after three songs, she dedicated a song to all the divas, mentioning Mariah Carey and Celine Dion. She then started to sing English-language songs. The crowd cheered and clapped along.
Tawaji dedicated a song to the late Italian/Egyptian singer Dalida, before singing her song "Helwa ya balidi."
ARAB NEWS
This error message is only visible to WordPress admins
Error: No connected account.
Please go to the Instagram Feed settings page to connect an account.